10 Simpsons Funko Pops That Need To Exist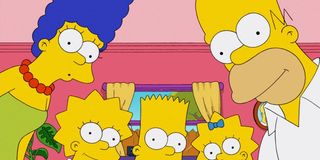 You know what I love more than Funko Pops (opens in new tab)? (That's actually a trick question since there's nothing I love more than Funko Pops). It's The Simpsons! I've seen every episode since its debut in 1989, and I don't have any intention of stopping. That said, while there are many Funko Pops of The Simpsons (opens in new tab), there are some key ones that still haven't been produced yet that just have to be made. It's the only cromulent thing to do.
Now, I've already covered movie Pops, TV Pops, and even Stephen King Pops, but The Simpsons Pops might be the hardest one yet since there are just SO many characters to choose from. That said, if I had to choose 10 Simpsons characters that need to be made into Pops, these are the 10 that I would pick. And without further Apu…
Superintendent Chalmers
Skinnnnnerrrr! Superintendent Chalmers (Or, Super Nintendo Chalmers if you're Ralph Wiggum) is the perfect foil for the weak-willed Principal Seymour Skinner. He is always surly, ready to shout, but also strangely comfortable with eating some steamed hams at his subordinate's house.
If Funko Pops were ever created of Superintendent Chalmers, I would definitely want one of him opening up a hamburger, only to look disturbed since these "steamed hams" are obviously grilled. Also, they look remarkably close to the patties they sell down at the local Krusty Burger. Bonus points if they have fire in the background of the box to represent the "Aurora Borealis" that is localized entirely in Seymour's kitchen.
Ralph Wiggum
Speaking of Ralph Wiggum, how is there not already a Pop of everybody's favorite Ralphie? By all accounts, Ralph is the kind of child that a southerner would likely say, "Bless his heart," to. He may not be the sharpest crayon in the box, but knowing Ralph, he would probably stick that sharpest crayon right up his nose.
There are many variations of Ralph that could be Popped, but the one that would likely be the best is the one where he's receiving a Valentine from Lisa that says she would "Choo-Choo-Choose" him. Because everybody deserves some love. Especially Ralph Wiggum. "They taste like…burning."
President Lisa
There are a whole bunch of Treehouse of Horror Pops, but not one of Lisa as the President of the United States of America, which I feel is a crying shame. The Simpsons have predicted God knows how many things that have come true. But the one thing they haven't unfortunately gotten right—yet—is a female POTUS.
I'm not saying that a Funko Pop of Madam President Lisa could rectify that, but it also wouldn't hurt. I would like a Pop of Lisa behind her desk with her fingers intertwined. Honestly, if there was any Funko Pop made into Simpsons characters that I want the most, this would be it. I would put it in my daughter's room.
Barney Gumble
Springfield's favorite alcoholic is actually a pretty tragic figure. With his beautiful singing voice, his brilliant film making abilities, and his overall kindness, Barney Gumble is the kind of person we all want to be—when he's not drowning himself away in that sweet, sweet Duff.
Funko has a relatively obscure character like Radioactive Man (opens in new tab) as a Pop, so it's kind of baffling that they don't also have a Pop of Barney Gumble. There are many variations I would want of Barney, from the Barney with his belly showing, to the one in the barbershop quartet get-up when he's in the B-Sharps. But the one I think I want the most in the thoroughly artsy black and white Barney from the episode "A Star Is Burns." In this episode, he makes a film and tells the audience not cry for him since he's already dead. A tiny rose to accompany the Pop would be a nice little touch.
Patty and Selma
Marge's sisters and the bane of Homer's existence, Patty and Selma would of course have to be a double pack. They both work at the DMV, but their true job is annoying the hell out of Homer, to which they both deserve a raise.
If there was a Pop of the two of them, I would want them with a cigarette dangling out of both their mouths. If the Funko Pops could also give them hairy legs, that would work, too. Also, much respect if they include Selma's pet iguana, Jub Jub as well. Because only an iguana can make some people feel like a natural woman.
Itchy and Scratchy
Another dual pack that's a must, the cat and mouse duo NEED to be in Pop form. One thing that is important about the Tom and Jerry parody is that they are as violent as possible. And the Pops could go in a number of directions with this.
One, they could just have them standing next to each other with weapons in hand, which is kind of boring, but I'd buy it. Another option is to have them in some kind of violent pose, like maybe Itchy running over Scratchy with a steam roller or something. But, and this would legitimately make my dreams come true, they could also have a three pack with Itchy, Scratchy, AND Poochie! My only question is this… when are they going to get to the fireworks factory?
Sideshow Bob
Everybody's favorite operatic singing psychopath, Sideshow Bob would be an excellent addition to the Pop library. Wanting to kill Bart is not his only ambition, but it's probably his most memorable.
That's why there should be quite a few Pops of Sideshow Bob. One could be of prison Bob, since he's spending most of his time behind bars these days. Another could be of him back when he was still on the Krusty the Clown show with his grass skirt and his "big shoes to fill." And one could even be of him running for Mayor in one of my favorite episodes, "Sideshow Bob Roberts." Because you really can't have too much of Sideshow Bob.
Edna Krabappel
This one still stings, but Bart's former teacher, Mrs. Krabappel (Not Krandal) would make for a pretty cool Funko Pop. Gracefully killed off on the show since the voice actress, Marcia Wallace, died in real life, Mrs. Krabappel is the character I always wished was my fourth grade teacher, even though Bart couldn't stand her guts.
I would like a Pop of Mrs. Krabappel in her traditional school outfit, but also in one of her night on the town outfits, since yeah, I'll admit it, out of all of the possible Simpsons designs, hers was probably the sexiest. Don't judge!
Stephen Hawking
The Simpsons have had a LOT of guests over the years, but if I could pick just one to put in Pop form, it would be The Theory of Everything genius, Stephen Hawking. He appeared in three episodes of The Simpsons, but his first --and best-- appearance was in the episode, "They Saved Lisa's Brain".
The Pop would of course have to be of him in his wheelchair with his voice box that allowed him to speak. But it would also have to have a boxing glove in there somewhere so he could punch Homer in the face whenever he mistakes him for Larry Flynt, as well as a mini helicopter. Because every genius with an IQ of 280 deserves a Funko Pop.
Frank Grimes
Frank Grimes, in all seriousness, is in my top three favorite Simpsons characters of all time, right up there with Homer and the Crazy Cat Lady. But what makes Frank Grimes so special is that he's so relatable. In fact, I'm convinced that we all have a Homer Simpson in our life who drives us crazy. And Frank (Or "Grimy," as his friends tend to call him) is kind of wish fulfillment personified since he screams right in Homer's face. Unfortunately, he paid the ultimate price since he was one of the few Simpsons characters who actually died on the show.
Since I'm selfish, I want two Pops of Grimy. One of him looking perfectly sane and rational, and the other of him going crazy once Homer wins a talent show for children. Because that's the Frank Grimes I love. The one who goes off the deep end.
So, that's the list. Of course, there are SO many characters I excluded (Apu, Bumblebee Man, The Klav Kalash vendor...the list goes on and on!) Sound off in the comments section below which Simpsons characters you would love to see get Funko Popped.
Your Daily Blend of Entertainment News
Rich is a Jersey boy, through and through. He graduated from Rutgers University (Go, R.U.!), and thinks the Garden State is the best state in the country. That said, he'll take Chicago Deep Dish pizza over a New York slice any day of the week. Don't hate. When he's not watching his two kids, he's usually working on a novel, watching vintage movies, or reading some obscure book.