One Chicago Vs. Volcano, Not-So-Super Tuesday And More In This Week's TV Ratings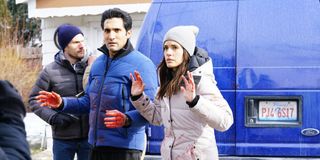 (Image credit: NBC)
Another week of TV means another week of ratings to gauge what shows people are loving, what shows people are leaving, and what has to happen for somebody walking over a volcano to make people mad. Politics took over one night of the week of March 1, one night pitted a not-so-death-defying walk against some of the most consistent performers of the TV season, and then there was Grey's Anatomy's game-changer. Throw in some Bachelor shenanigans and Sunday night woes for one hit franchise, and there's a lot to dig into. Read on for a ratings rundown for the week of March 1!
Note: all calculations are Live+Same day in the 18-49 age demographic.
One Chicago Vs. The Volcano
Wednesdays are often the most interesting nights of primetime when it comes to ratings, and March 4 was no exception. The three shows of One Chicago didn't have their best night compared to last week's Chicago Fire/Chicago P.D. crossover boost but still ranked third, fourth, and fifth of the night. The 8 p.m. hour was the one to watch, with NBC's Chicago Med up against not only Fox's The Masked Singer and CBS' Survivor, but also ABC's Volcano Live! with Nik Wallenda.
As a special broadcast involving a man walking over a volcano, Volcano Live! had the potential to defeat its competition at 8 p.m. on March 4 and perhaps even the whole night. Unfortunately for the Volcano, it didn't roast the competition. TV Series Finale reports Volcano Live! with Nik Wallenda only scored 0.7 rating and an audience of 4.08 million, putting it well behind The Masked Singer with 1.8/6.74 million, Survivor with 1.4/7.7 million, and Chicago Med with 1.0/8.28 million in the 8 p.m. hour.
Volcano Live! was behind both Chicago Fire and Chicago P.D. as well, with Fire's 1.1 and 8.24 million and P.D.'s 1.0 and 7.08 million. Interestingly, Fire had the edge on Med in the ratings and was only slightly behind in viewership, with Med and P.D. tied in the rating. Unfortunately, Med dropped 13% in the ratings with the March 4 broadcast, with Fire dropping 11% and P.D. dropping almost 16%. Still, all three beat that pesky volcano!
The Bachelor's Women Tell All To Viewers
Peter Weber's season of The Bachelor on ABC has been dramatic even by Bachelor standards, and the March 2 episode was the Women Tell All installment that would unleash most of Peter's eliminated ladies. There was as much petty squabbling as could be expected, although Victoria Fuller was able to clear the air, and the women telling all was broken with bits of footage from the coming finale. So what were the numbers like for the Women Tell All episode?
Well, the numbers were great for the night of March 2 but not the greatest for this season of The Bachelor. On the upside, TV Series Finale reports The Bachelor easily won its time slot at 8 p.m. ET and the night in the ratings with its 1.8, which likely propelled The Good Doctor to the top of its 10 p.m. slot on ABC. The closest competition was NBC's Monday broadcast of The Voice, with a 1.5. Take that, competition!
On the downside, The Bachelor was down from last week to March 2. For the Women Tell All episode, the show dropped 9% in the ratings to hit that 1.8 and more than 6% in viewership for 6.37 million, which itself was the second-largest audience of the night. The Voice easily had the biggest audience, with 8.96 million. With the two-night finale coming up next week, I wouldn't be surprised to see the Bachelor vs. Voice competition heat up.
Not-So-Super Tuesday
Like March 4, the usual block of primetime on March 3 was broken up by a special event. Unlike Wednesday, however, Tuesday was all about the politics rather than a guy sort of risking his life to walk over a volcano. Called "Super Tuesday," the night of March 3 saw the Big Three networks devote primetime to election results. Only Fox aired original programming, with even The CW going for reruns. Unfortunately, Super Tuesday was really only super for one broadcast, and it wasn't on NBC, ABC, or CBS.
Fox's The Resident was the only broadcast to experience a boost in ratings and viewership, likely due in part to the rest of the networks taking the night off for news. The Resident jumped 14% for 0.8 rating and nearly 22% for 4.8 million, according to TV Series Finale, placing it on top in both ratings and viewership on the night. Empire's killer midseason premiere dropped from its fall finale but still came in third on the night, with 0.6 rating (down 16%) and 2.46 million (down 2%).
As for the news coverage, NBC was on top in both ratings and viewership with 0.6/2.81 million. Coming in second was ABC with 0.5/2.72 million, followed by CBS with 0.3/2.52 million. The three blocks of Super Tuesday coverage were pretty close in viewership, but the demo differences are enough to declare NBC the Super Tuesday news winner, even if the numbers weren't so super.
NCIS: New Orleans Suffers On Sundays
CBS changed up its successful NCIS franchise lineup for early 2020, moving NCIS: New Orleans from Tuesday nights at 10 p.m. ET to Sunday nights at 10 p.m. ET. The move took NCIS: NOLA away from its parent series, which held onto its Tuesday 8 p.m. ET slot despite the NOLA move. NOLA is now paired with NCIS: Los Angeles, and it hasn't fared nearly as well.
In the numbers for Sunday, March 1 courtesy of TV Series Finale, NCIS: New Orleans fell more than 12% in the ratings for 0.5. The drop in viewership was negligible in comparison, dipping less than 1% for 5.56 million. These numbers put it behind NCIS: LA in the 9 p.m. slot, which actually rose 9% for 0.7 and 4% for 6.48 million.
More alarmingly, this latest batch of NCIS: New Orleans numbers indicates that NCIS: NOLA may not be able to get back to the kinds of numbers it could hit on Tuesday nights. NOLA's final Tuesday broadcast of the 2019-2020 TV season was back on December 17, with 0.85 and 7 million. Since moving to Sundays, NCIS: NOLA's highest numbers were last week with 0.57/5.6 million. Now that we have three weeks of numbers from Sunday NCIS: New Orleans broadcasts, I think it's safe to say that NCIS: NOLA officially suffers on Sundays.
Grey's Anatomy Is Up For Alex Karev's Farewell
Grey's Anatomy fans have had more than a month to build anticipation, dread, and questions concerning how the long-running series would write out original character Alex Karev to accommodate Justin Chambers' departure. How the show said goodbye to Alex was divisive at best to viewers, but one thing is for sure: saying goodbye to Alex meant Grey's could say hello to some solid numbers for the March 5 broadcast.
Airing on ABC at 9 p.m. ET on March 5, Alex Karev's farewell episode of Grey's Anatomy scored a 1.3 rating and won an audience of 6.31 million, according to TV Series Finale. While these weren't the best numbers of the week, they were certainly the highest ratings of the night, and Grey's was behind only Young Sheldon in audience size. Grey's Anatomy hit that 1.3 thanks to a rise of 18%, and the 6.31 million is the result of a 5% rise.
Station 19 didn't have quite as solid of a night at 8 p.m. The Grey's Anatomy spinoff stayed even in the ratings with 1.0, and dropped more than 7% in viewership for 6.09 million. These numbers suggest to me that the much-publicized farewell to Alex was enough to draw back some fans who wanted to see how the original character was being written out, but who weren't so invested in the Grey's universe that they wanted to hit up ABC early to watch Station 19 as well.
I for one will be interested to see if Grey's can hold onto its super-sized audience from this week or if the numbers will dip back down again after Alex's departure.
And there you have some of the most exciting events, trends, and changes in the ratings from the week of March 1! Next week should be worth watching as well, with no volcano or Super Tuesday to change things up, One Chicago taking another week off, The Bachelor ending Peter Weber's season over two nights, and more. Be sure to check back next week for the next ratings roundup!
Laura turned a lifelong love of television into a valid reason to write and think about TV on a daily basis. She's not a doctor, lawyer, or detective, but watches a lot of them in primetime. Resident of One Chicago, the galaxy far, far away, and Northeast Ohio. Will not time travel, but will sneak references to The X-Files into daily conversation.