Bachelor Spoilers: Does Peter End Up With Madison Or Hannah Ann? What We Know Happens In 2020 Finale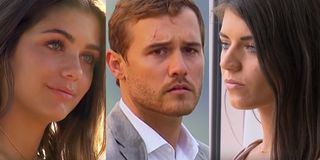 SPOILERS ahead from The Bachelor 2020, aka Bachelor Peter Weber's Season 24.
What happens in the two-night The Bachelor 2020 finale airing Monday, March 9 and Tuesday, March 10? Who does Peter Weber end up with -- Madison Prewett, Hannah Ann Sluss, or just himself and his wonderfully emotional mom Barbara? Those are the million dollar questions, and we finally have some answers ... we think. It's fun! So let's get into everything we know, everything we think, and everything we're still confused about. There's a lot, so be sure to at least skim to the end.
Bachelor Peter Weber Did Not Have A 'Normal Ending'
The Bachelor 2020 finale might not be a complete waste of our time thanks to this relatively unspoiled finale. Bachelor Peter Weber has been teasing for months that his ending won't be spoiled, noting there were mysterious reasons for him to think that. Spoiler guru Reality Steve said he's pretty sure he's heard the correct ending to this season ... but he's heard so many different versions of the ending that even he won't know for sure until Monday night or -- more likely -- the Tuesday "After the Final Rose" episode to know which ending was correct. However, on March 5, 2020, he finally spelled out how he believes Peter's season ends and where things stand now. But it's complicated. And then he changed major details on finale day Monday, March 9.
All we knew from the final rose ceremony that was filmed in mid-November 2019 to early March 2020 was that Bachelor Peter Weber did not have a "normal ending." He didn't just pick one of his final two, Madison or Hannah Ann, and get engaged that day. Or so we were told. However, on March 9, Reality Steve updated that Peter DID propose to Hannah Ann on finale day, he just didn't stay engaged to her. He reportedly pulled another Jason/Arie move.
It reminds me of the early days (pulls rocking chair forward) before Jason Mesnick's season, the first Bachelor Nation finale ever to be spoiled. But you didn't come here for my babbling (unless my mom is reading this and she did!) so let's get straight into what we know.
When Do The Bachelor 2020 Finale And 'After The Final Rose' Episodes Air?
Peter Weber's The Bachelor Season 24 finale airs Monday, March 9 from 8 to 10 p.m. I fully expect some kind of cliffhanger, either on the show itself or through a promo for the next night's "After the Final Rose" special. That airs Tuesday, March 10 from 8 to 10:01 p.m. ET on ABC.
The "After the Final Rose" special should be at least partly live, with Chris Harrison in front of an audience. We should also see some pre-taped footage, though, like last year when ABC taped Hannah Brown dumping Jed Wyatt before she sat down with Chris Harrison to talk more about it. Signs have pointed to everything continuing right up to the end for Peter Weber, including the live ATFR episode and then it's possible Peter may actually propose to Madison during the live show -- unless he feels like it's going to be a no and then maybe he'll skip that idea. And it's also possible the spoilers may be wrong. New Bachelorette 2020 Clare Crawley may also meet a few of her first bachelors right there on the live "After the Final Rose" special too, we'll see.
Peter's Mom Makes Her 'Bring Her Home' Speech About Hannah Ann
On March 9, Reality Steve said Bachelor Peter's mom is talking about Hannah Ann with her "bring her home to us" speech, which is a bit of a surprise. Apparently the family is more pro-Hannah Ann but Peter's heart was pulling him toward Madison.
Madison Quits Shortly Before The Final Rose Ceremony
Madison sticks around long enough to meet Bachelor Peter's parents again. Remember, she already met them during the first one-on-one date of the season. But she meets them again, and then quits. Reality Steve said he thinks she quits on the final rose ceremony day itself. Steve later confirmed that Madison does not show up for the final rose ceremony, and so Peter cancels it.
Peter Proposes To Hannah Ann, Then Dumps Her For Madison?
Phew! Reality Steve posted a bunch of spoilers on Bachelor Peter's ending on March 5, and then updated on Twitter that he heard something different from another source. Initially, Steve posted that The Bachelor 2020 ends without Peter picking anyone after Madison quits. However, Peter reportedly doesn't dump Hannah Ann, he says he won't be able to make a decision in good conscience until he talks to Madison and gets closure there or something. So he spends some time in Alabama trying to win back Madison and her family. It reportedly wasn't easy, but eventually Peter realized he wanted to make it work with Madison -- and she seems to want to be with him. And so THEN he lets Hannah Ann know it's over. But the updated March 9 spoilers said Peter actually proposed to Hannah Ann in Australia on final rose ceremony day, and later he dumped her for Madison. That sounds like what we've seen before from Jason and Arie, though.
Chris Harrison's Finale News Is Reportedly About Hannah Ann
The very first scene The Bachelor 2020 showed was a flash-forward to the final rose ceremony, with Chris Harrison showing up to tell Peter something, something they all just found out. Peter replied with "What?" and said he felt like he was going to pass out. Reality Steve initially said that was not about Madison, and he updated on March 9 that it was really about Hannah Ann considering leaving at the final rose ceremony too. She doesn't, though.
Bachelor Peter Tells Hannah Ann He's Sorry From The Bottom Of His Heart In L.A.
The Bachelor 2020 only recently added an extra scene to the finale teases we've seen all season. This promo shot shows Bachelor Peter visit someone to say he's sorry from the bottom of his heart, he never envisioned this. Bachelor sleuths deduced that speech took place at a house in Los Angeles. So that is something we will see after the finale, which was taped in Australia in November 2019. On March 9, Reality Steve said that was Peter apologizing to Hannah Ann since he was dumping her for Madison.
Madison Filmed Something With Bachelor Producers Just Recently
There are no spoilers about what exactly she filmed, but Madison Prewett was seen with the Bachelor crew back in early February in Alabama. At the time, we were told it was NOT for The Bachelorette. We know that's true now, since Clare Crawley was revealed to be the 2020 Bachelorette. So it sounds like that was part of filming for Peter's wooing of Madison and her family to try and get back in their good graces in the real world.
Bachelor Peter Said Things Change Right Up To The Last Second
Bachelor Peter said The Bachelor worked almost TOO well for him and he fell in love with two women. He said things changed right up to the last second in his final week, which was the craziest week of his life. Obviously things kept changing if he apologized to someone from the bottom of his heart in L.A. some time after filming ended in Australia. Chris Harrison recently said so much happens in that final week, it's like the season is only just starting now at the end. He said there's a lot more that happens on so many levels. ABC executive Robert Mills also warned that the "roller coaster" wouldn't really end until the "After the Final Rose" special. That may be because a proposal is coming live, but we'll have to see...
Not Even Peter Knows The Ending?
During the "Women Tell All" episode, Chris Harrison said the finale is so unexpected, no one knows how it will end. After Reality Steve's most recent spoilers, it sounds like maybe Peter isn't sure how things will end because he has a proposal planned for the live "After the Final Rose" special and he's not sure how it will go. Then again, the spoilers may be wrong so it's still a mystery.
Jimmy Kimmel Predicted Peter Picked Hannah Ann, Tiffany Haddish Said Madison
Right at the start of every season, Jimmy Kimmel "predicts" the winner and it usually matches spoilers. Last year, though, he was the first one to "predict" Bachelorette Hannah Brown picked Jed Wyatt when Reality Steve's spoilers at the time were still incorrectly pointing to Hannah picking Tyler Cameron. This year, Kimmel "predicted" Peter would pick Hannah Ann. Meanwhile, Kimmel's guest alongside Peter for that episode, Tiffany Haddish, read Peter's expression and thought he picked Madison. At the time the Kimmel episode was taped -- on January 7, 2020 -- maybe they were both a bit right and both a bit wrong?
Wild Bachelor Finale Fan Theories Pointed To A Producer And Pregnancy
Since The Bachelor 2020 was unspoiled for so long, fans came up with their own theories on what happened in the end. I was thinking maybe Chris Harrison showed up with some bad news about someone's family member and they had to leave for an emergency. Yes, I was stretching, but we've been told that what happened was heartbreaking and no one could see it coming. Madison quitting? Yeah, we could all see that coming, so maybe there's more. Some fans thought Hannah Brown might return in the end, but that was shot down. Victoria Fuller also does not return for still another chance. Since Bachelor Peter and his producer share photos together, there was that fun theory that they might be together, but that also got shot down. And then there's the theory that Peter got someone pregnant, and that threw all his plans out of whack. I love that crazy but probably not true theory.
Peter Is Reportedly NOT With Kelley Flanagan (Unfortunately)
One new theory stemming from The Bachelor 2020: "Women Tell All" was that Peter got Kelley Flanagan pregnant. She was the only woman from Peter's past few episodes to not be invited to the WTA. (Natasha said on Twitter she was invited but couldn't make it.) So theories spread that Peter got Kelley pregnant and they are together now, and that's the news Chris Harrison shares during the finale. Well, Reality Steve shot that theory down as crazy. It's apparently not what happens, but I still love it. Kelley, you were robbed of your rightful place in this story!
Peter Is Reportedly NOT With Hannah Ann
One note Reality Steve was confident to report is that "Hannah Ann is 100% not with Peter right now." That's what he wrote on March 3. That pretty much left Peter as being with Madison or just himself. Steve updated on March 5 by saying Peter and Madison were together, dating but not engaged, which is what he had been hearing for a while. But then he updated again that there was some "weirdness" and it sounds like the Hannah Ann door might not be completely closed on the spoiler front. On March 9, his spoilers said Peter actually proposed to Hannah Ann in the end but ultimately dumped her for Madison.
Reality Steve Finally Shared His Thoughts On What Happens ... Then Changed It
In his latest March 5 column, Reality Steve "confirmed" details on how Bachelor Peter Weber's finale played out, but then he updated with significant changes on March 9, aka the Monday of the two-night finale. According to the March 5 report, Madison quit before the final rose ceremony. Peter called off the final rose ceremony to talk to her. But she already flew back home to the U.S. from Australia. So everyone leaves for the States. Peter basically told Hannah Ann to know he was making the right decision and have a clear conscience he needed both Madison and Hannah Ann around. He didn't want Hannah Ann to feel like he picked her by default since Madison quit. He wanted to talk to Madison first. Back in the U.S., Steve said Peter had the tough job of trying to win over Madison's family, who were not overly supportive of The Bachelor situation. Madison didn't take him back right away. It got intense but apparently Madison and Peter are together now, and it's possible he'll propose live. However! On March 9, Steve changed some details, including that Peter DID propose to Hannah Ann on finale date back in mid-November 2019 but then dumped her later for Madison.
Reality Steve Also Heard A Random Rumor He Would Confirm If It Happens
On February 27, during his podcast, Reality Steve said he had just been told a wild ending rumor:
He said, if it turns out to be true, he'll tell us. But he didn't say it right then and there. He said he'd heard so many endings, he didn't want to pass them all along. "It's been a wacky season."
Hannah Ann Is Moving To L.A. After The Bachelor Finale
As we know, Bachelor Peter Weber lives in L.A., very close to the Bachelor mansion. Hannah Ann Sluss came to Bachelor Nation through fellow model and friend Hannah Godwin. Hannah G. was a finalist last year on Bachelor Colton Underwood's season and she got engaged to Dylan Barbour last summer on Bachelor in Paradise. Anyway, Hannah G. also lives in L.A. and she and Hannah Ann chatted on Instagram about living close to each other soon. Hannah Ann is reportedly moving to L.A. right after The Bachelor finale. She might just be there for more TV and modeling opportunities, although I fully expect her to be on Bachelor in Paradise too. It worked for Hannah G.!
Don't forget that Bachelorette Clare Crawley is meant to start filming her Season 16 on Friday, March 13, although she may meet some of her initial guys on Tuesday's live "After the Final Rose" episode. Casting is changing in real-time, with some bachelors already dumped for being too young. Her season will start airing in May, first we have The Bachelor's Listen to Your Heart spinoff, and Reality Steve already shared spoilers on how that ends. At least he knew that one early!
The Bachelor 2020's two-night finale will spread all of the Peter, Madison, and poor Hannah Ann drama across two nights, with a possible live proposal on Tuesday, March 10. The show airs 8 to 10 p.m. ET on ABC.
Your Daily Blend of Entertainment News
Gina grew up in Massachusetts and California in her own version of The Parent Trap. She went to three different middle schools, four high schools, and three universities -- including half a year in Perth, Western Australia. She currently lives in a small town in Maine, the kind Stephen King regularly sets terrible things in, so this may be the last you hear from her.