John Oliver Rips Into Disney And Hotstar Over Last Week Tonight Censorship Issue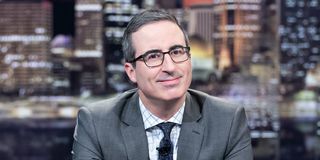 John Oliver had several intense thoughts to share after he and his staff discovered that certain aspects of Last Week Tonight episodes were being censored by India's Hotstar, a Disney-owned premium streaming platform offering viewers hundreds of hours of programming. Oliver recently ripped into Hotstar for censorship issues regarding both political opinions and his jokes about Disney characters like Mickey Mouse and others.
During the March 8 episode of HBO's Last Week Tonight, John Oliver kicked the show off by informing the audience that the episode critiquing India's Prime Minister Narendra Modi was never uploaded to Hotstar. Oliver went on to say that it wasn't even the first time the show has been censored by the streaming platform. In fact, Hotstar had edited out Oliver's jokes about various Disney characters, including one about Mickey Mouse being a cocaine addict. Oliver questioned why they would do such a thing.
However, John Oliver didn't seem very concerned about stoking Disney's ire because he already had an in with the company after playing Zazu in The Lion King live-action remake. Here's the expletive-filled diatribe he offered to Hotstar concerning the censorship:
John Oliver conceded that Hotstar probably edited the prior segment because of Disney's ownership of the streaming platform. After that takedown, however, it seems even Hotstar can't ruffle John Oliver's feathers. Zazu would be proud, I'm sure. You can watch parts of the segment below!
HBO's Last Week Tonight has become synonymous for its funny and insightful takedowns on serious and well-researched issues. John Oliver has covered a variety of topics, criticizing everything from sheriff elections and accountability to debunking the myths about the Miss America pageant program. So, it was rather unsurprising that he had the choicest of choice words for Hotstar and Disney when he realized Last Week Tonight was being censored.
It's not the first time the host has called out major companies and it won't be the last, though not all company representatives have remained quiet about John Oliver's epic takedowns. Last summer, Oliver's segment on warehouses had an Amazon exec slamming the HBO series for an "insulting" depiction of the workplace environment, and the show also earned the anger of WWE head honcho Vince McMahon.
New episodes of Last Week Tonight air Sunday nights at 11 p.m. ET on HBO. For more on what to watch, be sure to check out our 2020 midseason schedule for updated premiere dates and times.
Your Daily Blend of Entertainment News