Jack Gleeson: 6 Things You Need To Know About The Actor Behind Game Of Thrones' Joffrey Baratheon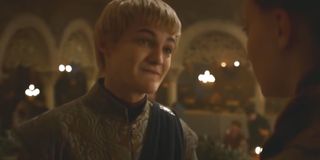 Sometimes it's really hard to separate the actor from the character. There are those characters who are so evil, so disgraceful, and so downright awful that we will always see the actor behind them as the role. Case in point, Jack Gleeson, who starred as the petulant and maniacal King Joffrey Baratheon in the first four seasons of Game Of Thrones. Over his reign of terror, Joffrey did some astonishingly evil and twisted things to everyone from Ned Stark and his daughter, Sansa, Joffrey's uncle, Tyrion Lannister, and just about everyone in between. Joffrey's name has since become synonymous with dastardly.
Good thing Jack Gleeson is nothing like the evil brat that he portrayed before meeting his end during the "Purple Wedding." In fact, the actor who left television after Game Of Thrones, is actually not that bad of a guy. And despite retiring from acting, the Irish-born actor has remained quite busy since he hung up the crown back in 2014, including the new BBC comedy Out Of Her Mind.
Here are six things to know about Jack Gleeson that don't have to do with one of the most reviled characters in television history.
Gleeson Took Inspiration From Joaquin Phoenix For His Role As Joffrey Baratheon
It's no secret that Joffrey Baratheon and Joaquin Phoenix's jealous and power-hungry Commodus from Ridley Scott's Oscar-winning Gladiator have a lot in common. The two rulers made their subjects miserable for their own pleasure, they were violently jealous of others gaining power, and did everything in their power to keep their hands on the reins of their respective empires. And there's a good reason for that.
During a 2014 interview with Entertainment Weekly that was released ahead of Gleeson's final season on Game Of Thrones, the actor was asked to share where he took inspiration when he was bringing the evil boy king to life, to which he said:
In addition to hating the evilness and pettiness of the two characters, fans of the respective properties also took great pleasure in watching these madmen die slowly and painful deaths.
Following Game Of Thrones, Gleeson Started Baking
Once Jack Gleeson left Game Of Thrones, the actor focused on earning a degree in philosophy and theology from Trinity College Dublin, but upon graduating, the former actor and student took up another way to pass the days: baking.
In a 2016 interview with University Times, Gleeson didn't even try to keep it a secret that he had starting making his own bread in his free time, telling the publication:
See, even the most evil of characters can find peace in something that isn't decapitating a man in front of his teenage daughter.
Gleeson Even Showed Up In An Irish Wrestling Promotion
Could you imagine how crazy it would have been to see Joffrey Baratheon show up in a random wrestling promotion as a diabolical heel just asking for his comeuppance? While that didn't happen (not yet, at least), Jack Gleeson happened to pop up in the square circle, it was something entirely different than what anyone was expecting.
Back in the summer of 2019, online wrestling news outlet Pro Wrestling Sheet released an extensive crowd report from the Trinity Brawl 2 where Gleeson was supposed to be inside the head of J Money, an Irish wrestler:
Things got even crazier at the end of the show, however, as Gleeson reappeared acting like his normal self before Mariah Carey's "All I Want For Christmas Is You" began to play over the speakers. The show ended with Gleeson and all the wrestlers dancing and singing in the ring.
He Co-Founded The Collapsing Horse Theatre Company
When Jack Gleeson was just starting out at Trinity College Dublin and on Game Of Thrones, the actor began to work with a group of fellow students and actors who would go on to form the Dublin-based Collapsing Horse Theatre Company.
Between 2012 and 2019, the theatre company produced multiple low-budget, comic, and spectacular productions that were performed in Ireland, London, Moscow, and even New York before the group decided to close up shop in late 2019.
One Of His First Appearances Was In Batman Begins
Long before he portrayed the brattiest king the Seven Kingdoms had ever seen, Jack Gleeson had several small bit roles in a few Hollywood action movies, including Christopher Nolan's Batman Begins. Though it's not one of those "blink and you'll miss it" types of situations, Gleeson's appearance in the first entry of the Dark Knight trilogy was small enough to be surprised by it in later viewings.
Gleeson shows up in two different scenes in Batman Begins, once when Batman is performing reconnaissance of the Narrows and then again when Rachel Dawes is trying to get out of area before Scarecrow and Ra's al Ghul can release the fear toxin. Like I said, it's not much, but seeing the little boy would become king in a Batman movie is pretty amusing.
Jack Gleeson Is Returning To Television With British Comedy, Out Of Her Mind
Around the time he was killed off Game Of Thrones, Jack Gleeson said he was stepping away from acting after more than 10 years so that he could focus on other things. In an interview with Entertainment Weekly, Gleeson explained:
Well, that all went out the window when Variety revealed that Gleeson would be returning to television after a six-year absence with the BBC comedy Out Of Her Mind. The show, which is created by Sarah Pascoe and has Simon Pegg and Nick Frost signed on as executive producers will explore heartbreak, family, and how someone gets through both at the same time.
See, Jack Gleeson is much more than the evil King Joffrey Baratheon he portrayed for four seasons on Game Of Thrones. He's actually not that bad of a guy.
Your Daily Blend of Entertainment News
Philip grew up in Louisiana (not New Orleans) before moving to St. Louis after graduating from Louisiana State University-Shreveport. When he's not writing about movies or television, Philip can be found being chased by his three kids, telling his dogs to stop yelling at the mailman, or yelling about professional wrestling to his wife. If the stars properly align, he will talk about For Love Of The Game being the best baseball movie of all time.