Grey's Anatomy: Watch Ellen Pompeo's Beautiful Tribute To Nurses And Doctors During Coronavirus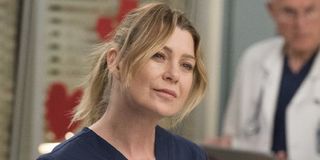 Grey's Anatomy follows the lives of fictional doctors and their daily dilemmas, traumas, and work to cure patients of whatever ails them. However, now that the coronavirus pandemic has taken a global hold, series star Ellen Pompeo is paying a beautiful tribute to the nurses and doctors who are on the front lines during the coronavirus outbreak.
Several TV and movie productions are halting filming completely, with production on Season 16 of Grey's Anatomy also being suspended for the time being. Most are encouraging and facilitating social distancing and self-quarantining in hopes of slowing the spread of the coronavirus, and Grey's Anatomy star Ellen Pompeo took to her Instagram to thank the medical workers who are working incredibly hard. Watch her full tribute below!
In her "appreciation post," Ellen Pompeo made sure to give special thanks to everyone who works in the health care field who has remained on "the front lines" of the pandemic to try and keep others healthy. Pompeo notes the fact that, as many of us have surely become aware, doctors, nurses and other hospital personnel can't just stay home like many of us can to try and keep themselves healthy, so they have the added challenges of being around people who potentially have the virus most days, and still having to go to work.
Ellen Pompeo's post is very touching and especially heartwarming in these difficult times. The Grey's Anatomy actress may only play a doctor on TV, but she clearly knows how important real-life doctors and nurses are to the well-being of any population.
Knowing that health care workers need to keep themselves safe and healthy as well as the rest of us, Ellen Pompeo's thoughtful message may be exactly the boost they need, especially considering the current circumstances. Personally, it's always nice to hear words of encouragement because a little goes a long way.
The coronavirus pandemic has affected Hollywood in many ways. Idris Elba, Tom Hanks and Rita Wilson are among the celebrities who tested positive for coronavirus. What's more, The Witcher Season 2, The Falcon and the Winter Soldier, and Amazon's Lord of the Rings, are among the plethora of shows that have halted production for the time being. While there is currently much uncertainty about how Hollywood will move forward and what's to come, it's good to know that Ellen Pompeo is sending her thanks to the real-life medical staff. I'm sure they need it now more than ever.
Grey's Anatomy airs Thursdays at 9 p.m. ET on ABC. While TV productions are on pause or done for the season, completed episodes will continue to air as scheduled. Stay tuned to CinemaBlend for updates. In the meantime, be sure to check out our midseason schedule for more on what to watch.
Your Daily Blend of Entertainment News