Grey's Anatomy Star 'Had So Many Feelings' About Justin Chambers' Exit As Alex Karev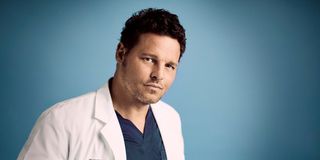 The shockwaves continue following Justin Chambers' departure from Grey's Anatomy as Dr. Alex Karev. The actor officially announced his exit in January, though his final episode had actually already aired in November. While it's hard to see an original cast member leave the medical drama after 16 seasons, everyone's reactions to it have varied. Now, Grey's Anatomy star Jaicy Elliot reveals she "had so many feelings" about Chambers leaving the long-running show.
Though Justin Chambers' departure didn't seem to be due to any ill will towards the writers or cast, emotions ranged from anger to shock following Alex's official goodbye episode, called "Leave the Light On." Jaicy Elliot, who plays Dr. Taryn Helm on Grey's Anatomy, was quite devastated over losing Chambers and his character on the show. Here's what she told TooFab:
She's right, it is truly hard to watch a beloved actor and character exit a show, especially someone like Justin Chambers' Alex Karev, who came so far from where he started in Grey's Anatomy Season 1 and was with the show for so long that fans had a vested interest in him and his storyline. Interestingly, Jaicy Elliot's reaction to his exit was a bit different than co-star Ellen Pompeo's.
Whereas Ellen Pompeo believed that Alex got the "best send off," Grey's Anatomy fans were livid over the fact that Alex left his job at Grey Sloan and his wife Jo to go be with ex-wife Izzie Stevens and their two children, whom he hadn't known about. As for whether or not his exit was a surprise to her and the cast, it sounds like Jaicy Elliot also found the storyline to be surprising and was torn, especially since she was a fan of Alex and Jo as a couple. In her words:
The actress certainly offers a more unique perspective than what we've seen before because, while she is now starring on the beloved ABC drama, Jaicy Elliott has also been a longtime fan of Grey's Anatomy. I can't imagine what it was like for her to have to watch a beloved character and co-worker leave the show at once.
New episodes of Grey's Anatomy air Thursdays at 9 p.m. ET on ABC. For more on what to watch, be sure to check out our midseason schedule for updated premiere dates and times.
Your Daily Blend of Entertainment News
Thank you for signing up to CinemaBlend. You will receive a verification email shortly.
There was a problem. Please refresh the page and try again.