Fox's The Resident Donates Its Medical Supplies To Real Hospital Battling Coronavirus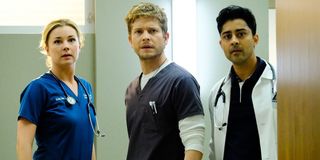 Fox's The Resident is one of the many TV shows that has had to halt production on its current season amid the coronavirus pandemic. While communities all over are trying to figure out how to help to assuage those who are most vulnerable, The Resident team had donated its on-set medical supplies to a real hospital in Atlanta, where the drama films.
After Season 3 of The Resident was recently shut down recently, the show's execs made the decision to donate a tremendous amount of protective gear and medical supplies – including medical gowns, masks, gloves and more – to Atlanta's Grady Hospital. Dr. Karen Law, a rheumatologist, posted about the donation on Instagram, thanking The Resident's team for being helpers to the real-life medical community in this time of need. Here's part of her appreciative message:
Considering that The Resident wasn't going to start up filming again anytime soon, and the fact that area hospitals would possibly be running low on supplies, the decision to donate their supplies was the responsible thing to do, in my opinion. Doctors, nurses, and all medical personnel on the frontlines need all the help they can get to help treat those who have tested positive for coronavirus, as well as dealing with the masses who are still unsure.
What's more, Dr. Karen Law called The Resident team "good citizens" for sending the medical supplies needed to the hospital without trying to be commended for the gesture. If the doctor hadn't posted about the supplies' origins, it's quite possible only those at Grady Hospital would have ever known about the donations. That's what you call true community support! Check out Dr. Law's entire post below.
The Resident is set in the fictional Chastain Park Memorial Hospital, following the lives of Matt Czuchry's Conrad Hawkins, Emily VanCamp's Nic Nevin and other medical personnel. The Fox series usually films in Atlanta and its suburb Conyers, but halted production indefinitely, joining the ranks of so many other network and streaming shows that have shut down due to coronavirus fears. Late night shows have come up with clever ways to provide monologues during the pandemic, so it's too bad hospitals aren't in need of corny jokes.
In another recent show of support for the medical community, Grey's Anatomy star Ellen Pompeo posted a beautiful tribute to doctors and nurses, thanking them for their continued efforts amid the coronavirus outbreak.
The Resident Season 3 airs Tuesdays at 8 p.m. ET on Fox. Stay tuned to CinemaBlend for updates on TV production news. In the meantime, be sure to check out our midseason schedule for more on what to watch.
Your Daily Blend of Entertainment News