Did The Good Doctor Boss Confirm Two Characters Who Aren't Going To Die?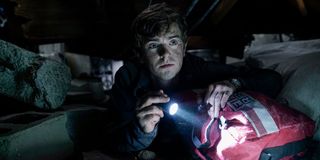 Spoilers ahead for the first half of The Good Doctor's Season 3 finale two-parter, called "Hurt."
The Good Doctor delivered a shocker of an episode this week. The first half of its two-part finale saw San Jose hit with a massive earthquake, and the repercussions were felt throughout the episode as Shaun and the rest of the doctors worked in overdrive to help save those who needed all the medical attention. However, the finale promo already revealed that someone would die at the end of Season 3, and The Good Doctor's big boss may have already revealed two of the main characters who aren't going to die.
The first half of the split-up finale ended on a major cliffhanger that saw Melendez collapse due to internal bleeding. Of course it happened just as Claire realized she loved him, but the moment put Melendez's life in jeopardy, causing many to wonder if he'd be the one to die in the second half of the Season 3 finale. When asked how the earthquake would change the doctors moving forward, showrunner David Shore didn't give much away, but his response seemed to indicate that at least two characters are in the clear (beyond Shaun, obviously). Here's what he told TVGuide about the earthquake's effects on St. Bonaventure:
Based on David Shore's answer, I'd wager good money on Lim and Claire both surviving the Season 3 finale. They can't move forward as individuals if they're both dead, right? And considering Claire will be changed by the whole ordeal, it makes me wonder whether Melendez's fate is sealed, or if having him dramatically collapse in the first half of the finale means he'll actually be okay by the second half's conclusion.
Of course, it could also mean that Claire is simply shaken up and realizes that she shouldn't wait any longer to tell Melendez how she really feels about him. The Season 3 finale is called "I Love You," so it might be safe to assume she will utter these very words to Melendez. Whether he survives long enough to hear them is a different story entirely.
All that said, David Shore could also be hinting at either Lim or Claire dealing with some serious personal injuries in the aftermath. But we'll just have to wait and see who's suffering the most when the credits roll.
The Good Doctor Season 3 finale airs Monday, March 30 at 10 p.m. ET on ABC. The series has already been renewed for Season 4, but stay tuned to CinemaBlend for how the coronavirus pandemic may affect its production schedule for next season. In the meantime, be sure to check out our midseason schedule for more on what to watch.
Your Daily Blend of Entertainment News