How Did FBI And FBI: Most Wanted's Crossover Compare To One Chicago And Grey's Anatomy?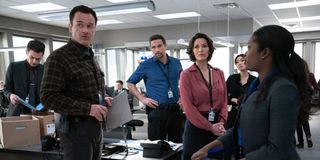 (Image credit: CBS)
Spoilers ahead for the March 24 crossover between FBI and FBI: Most Wanted on CBS.
The first major crossover between CBS' FBI and FBI: Most Wanted has officially aired, bringing the main members of the casts together for the first time since Most Wanted's backdoor pilot during FBI Season 1. Establishing shared universes has become a growing trend in recent years on broadcast television. As somebody who watches a lot of TV for my job, I find it hard not to compare crossovers between the various shared universes. Following the FBI/FBI: Most Wanted two-parter, I can't help but hold it up against One Chicago on NBC and Grey's Anatomy/Station 19 on ABC.
These are the three broadcast network shared universes that have closely-connected shows that air back-to-back (or back-to-back-to-back, in the case of One Chicago). They're all pretty different, although FBI and FBI: Most Wanted fall under the same Dick Wolf banner as Chicago Fire, Chicago P.D., and Chicago Med. Grey's Anatomy and Station 19 have grown closer this season, despite the fact that Grey's has a solid 13 seasons on its spinoff. So, how does FBI/FBI: Most Wanted compare to One Chicago and Grey's/Station 19 after its crossover? Is it more similar to the shows with which it might eventually cross over, or the ABC dramas?
Oddly enough, I have mixed feelings. I'm left with the sense that FBI and FBI: Most Wanted are currently more similar to Grey's Anatomy and Station 19, and not just because the shows don't have a name for the shared universe, a la One Chicago or the Arrow-verse over on The CW. (For simplicity's sake, I'm going to just refer to the two CBS series as the FBI-verse.) Despite the parallels between the FBI-verse and Grey's/Station 19, however, I see the potential for the FBI-verse to become more like One Chicago down the line.
Why The FBI-verse Is Currently Similar To Grey's Anatomy/Station 19
Although the crossover between FBI and FBI: Most Wanted did combine the two casts throughout both hours, the two hours still felt distinctly like separate episodes of FBI and FBI: Most Wanted that just happened to feature a bunch of guest stars. This isn't necessarily a bad thing, but it really did feel more like a two-parter than a big crossover event. When Station 19 and Grey's Anatomy cross over, more often than not the episodes feel separate with a few connective threads.
Part of this is due to just how different FBI and FBI: Most Wanted are despite sharing a universe. Grey's and Station 19 differ based on Grey's airing from Meredith's point-of-view (complete with narration) and linear storytelling, whereas Station 19 is more of an ensemble that regularly uses flashbacks. FBI is rooted in New York, whereas Most Wanted spends most of its time with the team traveling. These shows feel more distinctive than parallel to me.
Why The FBI-Verse Could Become More Like One Chicago
The casts meshed well throughout the FBI and FBI: Most Wanted episodes. With LaCroix and Jubal having a history and the Most Wanted team traveling so much, occasional small crossovers of certain characters wouldn't be shocking. OA shared a special family moment with LaCroix and Tali, and I can see these characters calling each other up for favors, advice, or even just hanging out if they're in the same city. They're both (obviously) set in the FBI, so it wouldn't be particularly contrived if more crossovers do happen.
The FBI-verse is young enough that these shows can grow to feel like a unit, as Chicago Fire and P.D. more or less did before being joined by Med. I'm afraid Grey's and Station 19 will always feel somewhat disjointed to me due to just how long Grey's Anatomy was on the air before Station 19 premiered. Private Practice launched much earlier in Grey's run, and the shows rarely crossed over. Is part of this because I'm annoyed that ABC still hasn't given me a name for the Station 19/Grey's shared universe and I have to keep writing it out like that? Perhaps.
In all seriousness, I believe the FBI-verse (which is what I will continue to call the FBI/FBI: Most Wanted universe until CBS gives me an official alternative) could have the best of both worlds when it comes to Grey's Anatomy/Station 19 vs. One Chicago. It should be interesting to see how the crossover does in the ratings for CBS. The FBI-verse two-parter wasn't hyped as much as One Chicago's "Infection" crossover or the Grey's Anatomy's winter premiere/Station 19's Season 3 premiere were earlier in the 2019-2020 TV season, after all.
All of this said, One Chicago and Grey's Anatomy cross over far more often than FBI and FBI: Most Wanted have, and both have been on the airwaves considerably longer. If anything, the FBI-verse as of the 2019-2020 TV season is probably more similar to One Chicago in the 2013-2014 TV season, when Chicago Fire Season 2 and Chicago P.D. Season 1 were both airing. A lot can happen for these two shows, assuming they score renewals from CBS.
I've been of the mindset for a while that Grey's Anatomy and Station 19 are trying to become more like One Chicago, given that the three Chicago shows score some of the best scripted drama ratings on broadcast television and are almost shockingly consistent from week to week. Any shared universe would surely appreciate One Chicago-esque ratings. At the very least, I'm confident no shared universe on one of the Big 4 networks of ABC, CBS, Fox, and NBC are trying to replicate the numbers of the Arrow-verse on The CW.
Unfortunately, both FBI-verse shows have been impacted by the production shutdowns due to the coronavirus pandemic. The promo for FBI's next episode touts it as the season finale, so it will be done for Season 2 sooner rather than later. We'll have to wait and see for FBI: Most Wanted. For now, you can catch new episodes of both FBI and FBI: Most Wanted on CBS (opens in new tab) Tuesday nights, at 9 p.m. ET and 10 p.m. ET respectively.
Laura turned a lifelong love of television into a valid reason to write and think about TV on a daily basis. She's not a doctor, lawyer, or detective, but watches a lot of them in primetime. Resident of One Chicago, the galaxy far, far away, and Northeast Ohio. Will not time travel, but will sneak references to The X-Files into daily conversation.
Your Daily Blend of Entertainment News
Thank you for signing up to CinemaBlend. You will receive a verification email shortly.
There was a problem. Please refresh the page and try again.