Is Station 19 Finally Cutting Down On Grey's Anatomy Crossovers?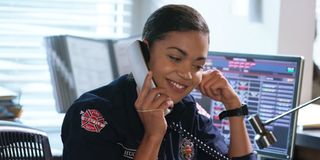 (Image credit: ABC)
Spoilers ahead for Episode 8 of Station 19 Season 3 on ABC, called "Born to Run."
Station 19 and Grey's Anatomy have been crossing over all over the place in the 2019-2020 TV season, largely thanks to the romance between Station 19's Vic and Grey's Anatomy's Jackson. They jumped into the relationship pretty quickly after Jackson and Maggie broke up as a bridge between the two shows, and they seemed to be going strong... until "Born to Run." Is the end nigh for Jackson and Vic, and does that mean fewer crossovers?
Vic had been evicted from her apartment and, lacking a place to stay, more or less secretly moved in with Jackson without letting Jackson himself know. Vic tried to sell that it wasn't a big deal, since she spent nearly half her weeks at the station and the rest with Jackson, but Jackson was understandably surprised and skeptical when he found out that she had kinda sorta moved in with him. Their interaction in the episode ended on a discouraging note, although they hadn't broken up.
Considering I've been predicting their relationship is doomed due to a real-life wrinkle for a while now, Vic and I are on the same page of interpreting Jackson's reaction as the first sign of the romance coming to an end or at least taking a break. Although Vic wasn't exactly overwhelmed with despair or negativity, she found herself a new home and roommate: Dean. When she learned that JJ had left Dean and their newborn daughter, she decided that she should move into the houseboat and help Dean with the baby.
Vic has a place to live and roommate(s) that aren't terribly conducive to a relationship with Jackson; throw in Jesse Williams' upcoming lighter duty on Grey's, and I'm guessing the frequent mini Station 19/Grey's Anatomy crossovers courtesy of Vic and Jackson could be a lot fewer and farther between. Sure, Bailey will still have every reason to drop by the station, and Sullivan's addiction isn't going to just go away because he switched from Koracick to Amelia on Grey's. Plus, there are a lot of crises that bring these two shows together. Remember that bear attack? I sure do.
Of course, Station 19 did recently score a renewal for Season 4 to go with Grey's Anatomy's early renewal for Season 17, so there will always be the possibility of crossover for as long as both shows are on the air.
If the potential end of Jackson and Vic's relationship doesn't result in a drop in the shows overlapping, then maybe I'll have to change my stance that One Chicago is the most connected shared universe on the small screen! Station 19 and Grey's Anatomy may make for a smaller shared universe than One Chicago with Med, Fire, and P.D. over on NBC, but they have been very connected so far this season.
We'll have to wait and see if, when, and how definitively Vic and Jackson break up in the 2019-2020 TV season. It's possible that they do still have a future together, since Grey's Anatomy just proved that even many years of separation can still result in somebody running off to join his ex. If the same rules apply to Station 19, then we shouldn't rule out Jackson and Vic with a long future, bumps and potential breaks aside.
See what happens next with new episodes of Station 19 on Thursdays at 8 p.m. ET on ABC, followed by new episodes of Grey's Anatomy at 9 p.m. ET.
Resident of One Chicago, Bachelor Nation, and Cleveland. Has opinions about crossovers, Star Wars, and superheroes. Will not time travel.
Your Daily Blend of Entertainment News
Thank you for signing up to CinemaBlend. You will receive a verification email shortly.
There was a problem. Please refresh the page and try again.