Joe Exotic Interviewed By Netflix From Prison, Promises He's 'Crazy' As Ever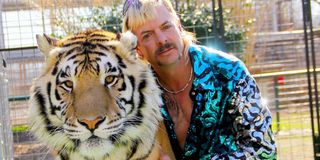 Joe Exotic has become a household name following the release of Netflix's Tiger King: Murder, Mayhem and Madness. The former zoo owner, whose real name is Joseph Maldonado-Passage, is still getting a word in while behind bars. Recently, the folks at Netflix interviewed Exotic from prison where he promised that he's "crazy" as ever.
Tiger King tells the story of Joe Exotic, big cat treatment, and his rivalry with Carole Baskin, the Big Cat Rescue owner whom Exotic has accused of allegedly murdering her husband. Currently, Exotic is serving his 22-year prison sentence after being charged with two counts of murder-for-hire, violating the Endangered Species Act, and falsifying wildlife records. Speaking with Netflix ahead of allegedly being placed in quarantine for contracting coronavirus, Exotic assured them that some things won't change post-prison. In his words:
It sure sounds like Joe Exotic will be up to more of the same if he ever gets out of jail, which is something he seems quite confident will happen. Last month, Exotic filed a $94 million lawsuit from prison, suing the U.S. Department of Interior and the U.S. Federal Wildlife Reserve for damages and the loss of his property. In addition to the government agencies, Exotic is also suing former business owner Jeff Lowe for allegedly orchestrating an "entrapment scheme" that reportedly led to Exotic's arrest.
Joe Exotic may "never change," but that doesn't mean that he won't be looking at life a bit differently if he ever walks free. His current situation — and the fact that his husband, Dillon Passage, is "sleeping in a car" — might give him a new outlook moving forward. For one, Exotic assures that he'll be leaving behind his rivalry with Carole Baskin and closing that chapter of his life. His primary focus will be on getting "exonerated from all these charges" and getting out of prison. You can watch the full interview below.
While Joe Exotic remains in prison, Jeff Lowe recently revealed that there would be another episode of Tiger King. The news of a new episode hasn't been confirmed yet and it's unclear whether this is additional footage from the docu-series or if it's something that was recorded more recently. However, according to Lowe, it will be available to stream on Netflix later this month. Whatever it turns out to be, I'm sure it'll be wild.
All seven episodes of Tiger King: Murder, Mayhem and Madness are available to stream on Netflix. For more on what to watch, be sure to check out our schedule of Netflix shows and stay updated with our list of TV delays and shutdowns.
Your Daily Blend of Entertainment News