Tiger King: What Happened To The Tigers And Jeff Lowe's Zoo After Netflix Documentary Events?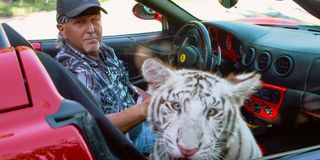 Tiger King: Murder, Mayhem and Madness has really struck a cord with viewers. The true crime documentary series launched its way to the top of Netflix's queue and shows no signs of slowing down, especially not with such a fascinating subject like Joe Exotic — real name Joseph Maldonado-Passage — continuing to make headlines even while in prison. However, Tiger King ended with quite a few unresolved issues. Crucially, what happened to all the tigers and Jeff Lowe's zoo after the documentary's events?
Jeff Lowe showed up in the latter half of Netflix's Tiger King. Before long, he became Joe Exotic's business partner, signing Exotic's Oklahoma park, G.W. Zoo, to his name. Eventually, Lowe wanted to shut down Exotic's original zoo in Wynnewood and move all the tigers and big cats to a new location in Thackerville.
In an interview with the LA Times, Tiger King co-director Eric Goode was asked about the status of Lowe's park. Did Lowe manage to do what he intended? Here's what Goode had to say:
For some background, retired basketball player Shaquille O'Neal appeared very briefly in the Tiger King documentary. His cameo was pulled from old footage that listed him as having visited Joe Exotic's G.W. Zoo. Later in the documentary, there is discussion surrounding whether O'Neal might be interested in investing in Jeff Lowe's zoo. However, nothing ever came of it during the filming of the docu-series, and it sounds like Eric Goode isn't convinced that O'Neal's people would "allow him to invest" any time soon.
As for what happened to the big cats left behind at G.W. Zoo following Joe Exotic's arrest on charges of murder-for hire, Retro 102.5 reports that The Wild Animal Sanctuary in Colorado stepped in to save the big cats from exploitation. With an assist from PETA, the sanctuary staff was able to rescue 39 tigers and 3 bears from Exotic's old park, with 19 of the tigers ultimately transferred to The Wild Animal Sanctuary in November of 2017.
Jeff Lowe is also being sued by Joe Exotic, who filed a $94 million lawsuit from prison. Exotic is accusing Lowe for allegedly lying, planting evidence, and being a part of an "entrapment scheme," which reportedly led to Exotic's arrest.
Tiger King: Murder, Mayhem and Madness is now available to stream on Netflix.
Your Daily Blend of Entertainment News
Your Daily Blend of Entertainment News
Thank you for signing up to CinemaBlend. You will receive a verification email shortly.
There was a problem. Please refresh the page and try again.