Netflix's Tiger King Has Sheriff Looking Into New Leads On Don Lewis' Mysterious Disappearance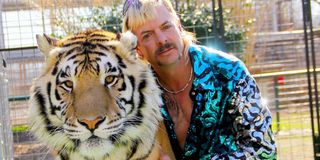 Truth can be stranger than fiction, as Netflix's Tiger King: Murder, Mayem and Madness can attest. The true crime documentary has continued gaining in popularity since its release on March 20, sparking intrigue and collective fascination. Now, the buzz surrounding Tiger King has encouraged the Hillsborough County sheriff to ask for new leads surrounding Don Lewis' mysterious disappearance.
On Monday, Tampa's Hillsborough County Sheriff Chad Chronister took to Twitter to ask for tips in hopes for a new lead on the case. Now that so many people have a garnered interest in Tiger King, the sheriff "figured it was a good time" to ask if anyone had any new information regarding the case. Per WFLA News 8, Sheriff Chronister revealed that he's been receiving six tips a day over the last few days and a detective has been assigned the case. Though none of the tips seem credible, the sheriff's office is reviewing a "lot of the evidence."
What's more, the sheriff confirmed that, at the behest of her lawyer, Carole Baskin refused a polygraph test. In the days since the release of the docu-series, Sheriff Chronister and his team searched Baskin's property. However, the meat grinders mentioned in the docu-series were reportedly removed prior to the search.
Don Lewis' mysterious disappearance drew a lot of high-profile attention after he first went missing — just two months after filing a restraining order against Carole Baskin. Described as a self-made millionaire, Lewis was last seen in August 1997. His van was found parked at the Pasco County airport, a location he frequented to buy planes, with the keys on the floor. Prior to his disappearance, Lewis had reportedly bought a plane ticket to Costa Rica. Since then, however, the sheriff revealed that the case has been left open and active, but with no persons of interest.
While Tiger King primarily follows the story of Joseph Maldonado-Passage, the former Oklahoma zookeeper better known as Joe Exotic, the series has piqued further curiosity into the missing persons case involving Big Cat Rescue CEO Carole Baskin's first husband, Jack Donald "Don" Lewis. Exotic himself has not been shy about what he thinks of Baskin and has publicly accused her of allegedly killing Lewis and feeding his dead body to tigers. Meanwhile, Baskin has expressed disappointment in Netflix's Tiger King.
Currently, Joe Exotic is serving 22 years in prison, convicted of killing tigers and for allegedly putting a hit out on Carole Baskin. Exotic has since filed a lawsuit against the U.S. Department of Interior and the U.S. Federal Wildlife Service for a whopping $94 million.
Tiger King: Murder, Mystery, and Mayhem is currently available to stream on Netflix. For more on what to watch, be sure to check out our midseason schedule.
Your Daily Blend of Entertainment News