Netflix's Tiger King Star Joe Exotic Just Set Off A Gigantic Lawsuit From Prison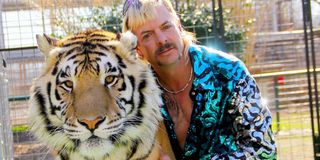 Earlier this month, Netflix released the docu-series Tiger King: Murder, Mayhem and Madness, which quickly skyrocketed to popularity among viewers. The true crime documentary series follows the story of Joseph Maldonado-Passage, best known as Joe Exotic, his cat breeding zoo, and a murder-for-hire plot he instigated near the end of the docu-series that ultimately landed him in jail. Now, Joe Exotic has set off a gigantic lawsuit from prison.
The subject of Netflix's Tiger King is suing the U.S. Department of Interior and the U.S. Federal Wildlife Service for allegedly putting him out of business. Joe Exotic is accusing both agencies for putting the "generic tiger" on the endangered species list that allegedly targeted his business and shut it down in the first place. Per court documents acquired by TMZ, Exotic alleges the act was done on purpose and is akin to "stealing my property and promoting an animal rights agenda."
Furthermore, Joe Exotic is also alleging that the charges against him are discriminatory. Per the court documents, the discrimantion is due to his being "an openly gay male with the largest collection of generic tigers and crossbreeds." According to the lawsuit, Joe Exotic is seeking more than $78.8 million to cover the reported loss of property, as well as 18 years worth of work and research.
What's more, he is also accusing former business partner Jeff Lowe for allegedly lying and planting evidence that reportedly led to Exotic's arrest, citing (via Courthouse News) that Lowe was part of an "entrapment scheme" to take ownership of his zoo, destroy his home and more. The lawsuit is also claiming that all of these events allegedly led to the death of Exotic's mother Shirley. In the case of the latter, Exotic is seeking $15 million more, bringing the total up to nearly $94 million.
The former zoo owner is currently serving a 22-year sentence in federal prison for allegedly hiring someone to kill Carole Baskin and for reportedly killing and selling tigers illegally. Joe Exotic openly alleged that Baskin murdered her husband and fed him to tigers. Exotic was convicted last April.
Thanks to Netflix's latest Top 10 feature, Tiger King is currently ranked #1 among viewers. While everyone who watched the docu-series may have walked away with a different point of view, the biggest takeaway from Tiger King "should be to give your money" to global animal conservation programs, according to co-director Eric Goode.
Stay tuned to CinemaBlend for updates on Joe Exotic's case. In the meantime, Tiger King: Murder, Mayhem and Madness is currently available to stream on Netflix. For more on what to watch, be sure to check out our midseason schedule, as well as our handy Netflix guide.
Your Daily Blend of Entertainment News
Thank you for signing up to CinemaBlend. You will receive a verification email shortly.
There was a problem. Please refresh the page and try again.