Netflix's Tiger King: 9 True Facts That Didn't Make The Documentary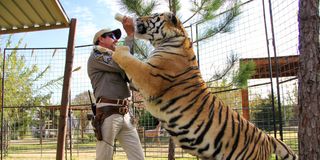 In the last few weeks, people around the world have been feeling a lot of fear and tension due to the on-going COVID-19 pandemic, but what's been helping a lot of people cope is the distraction that is Rebecca Chaiklin and Eric Goode's Tiger King: Murder, Mayhem and Madness – the latest documentary series released on Netflix. Telling a story the spans multiple decades and features excessively eccentric individuals like Joe Exotic (a.k.a. Joseph Allen Maldonado-Passage), Carole Baskin, and Bhagavan "Doc" Antle, it delights and freaks you out with an endless number of mind-bending twists, and only gets more outrageous just when you think it might run out of steam.
Tiger King packs a whole lot into 317 minutes (spread across seven episodes), but even still there are more crazy facts beyond the contents of the documentary… which is what we're here to discuss. Researching around the web since the series dropped, we've found even more wild details surrounding the story and its colorful cast, so let's dive in, shall we?
Joe Exotic Didn't Write Or Sing All The Songs In The Music Videos
There is not a lot of positivity to cling to while watching Tiger King, as it's essentially a documentary about bad people doing bad things to other bad people, but one element that gets genuine appreciation is Joe Exotic's music – particularly the songs "I Saw A Tiger" and "Here, Kitty Kitty." Even this part of the Netflix series has a dark side, though, because apparently there is a fair amount of contention regarding whether or not Exotic is actually performing. Author/podcaster Robert Moor says that a group called the Clinton Johnson Band is actually responsible for the popular tracks, with Exotic singing quietly over them, but speaking with the Los Angeles Times, co-director Rebecca Chaiklin said the doc's fact checker told her that he apparently does sing some of the time. Either way, the music is definitely not 100% Joe Exotic.
Doc Antle's Park Is Still Open – Even During Coronavirus Pandemic
One of the more shocking details that arrives at the very end of Tiger King (and only in text form) is that Bhagavan "Doc" Antle got a visit from the police at the end of last year. According to the documentary series, Myrtle Beach Safari was "raided" in December 2019 – though it's not mentioned exactly why the raid happened. However, if this news makes you think that "Doc" Antle's park is now out of commission, think again. According to Variety, not only has Myrtle Beach Safari remained open in the months since the raid, but it's even active during the on-going pandemic. Health concerns regarding the spread of COVID-19 mean that people really should stay away (that goes for all public gatherings), but that doesn't stop the situation from being a reality.
Joe Exotic Had Another Straight Husband Before John, Travis, And Dillon
After watching Tiger King, many have highlighted the strange fact that Joe Exotic, an openly gay man, managed to get two men who identify as straight to marry him, but evidently that's only part of the story. It's not mentioned in the documentary, but the eponymous animal hoarder actually had a fourth husband who also apparently identified as straight – one he was married to before John Finley and after his first husband, Brian Rhyne (who passed away in 1991). According to New York Magazine, Maldanado-Passage was also briefly married to a man named J.C. Hartpence. Little is known about Hartpence, but he is currently in prison for a murder he committed after he and the Tiger King were divorced.
Jeff Lowe Is Trying To Get Money From Shaquille O'Neal For His New Park
Toward the end of Tiger King, Jeff Lowe is shown trying to get plans together to start up a whole new park in Thackerville, Oklahoma, but the documentary concludes before the plot thread is resolved. This is probably partially due to the fact that the location still hasn't opened… but one strange thing to know about the development is that the effort is evidently currently looking to get a bit of help from an NBA legend. Eric Goode recently told the Los Angeles Times that Lowe is reaching out to Hall of Fame center Shaquille O'Neal as a potential investor. The status of those conversations is unknown – though one has to wonder how they may be impacted by the release of the Netflix series.
Carole Baskin Had A Boyfriend After Her Husband's Disappearance Who Filed A Restraining Order
One of the lingering mysteries that internet sleuths have latched on to in Tiger King is the strange case of Carole Baskin's first husband, Don Lewis, who disappeared in August 1997 (two months after filing a restraining order against his wife). As shown in the documentary, Baskin eventually remarried, getting together with current husband Howard Baskin, but Robert Moor has revealed details of another relationship she had with a man named Jay Baykal. Similar to Lewis, Baykal also wound up filing a restraining order against Baskin, and in the report said that he was fearful for his life – highlighting two conversations that led him to believe that his girlfriend killed her former husband.
The Officer Investigating The Fire At Joe Exotic's Zoo Had A Strange Connection To The Owner
In March 2015, a fire broke out at Joe Exotic's zoo, burning down the on-site production studio and destroying hours and hours of footage that was being assembled to create a reality series with the documentary's central subject as its lead. While definitely a bit shady, this isn't all that shocking by itself… but what does take things up a notch in terms of crazy is a story shared by Robert Moor. While looking into the fire while doing research for his podcast, Moore reached out to the police officer in charge of the case, and the next day got an angry call from Joe Exotic. How did Exotic know about the call? According to the author/podcaster, the police officer was employed as the zoo owner's limo driver.
Documentarian Eric Goode Has His Own Animal Obsession
"Animal people are nuts" is one of the first lines spoken by a talking head in Tiger King (and the documentary goes on to make a very strong case for that statement), so it may surprise you to learn that director Eric Goode is very much an "animal person" himself. Specifically, the filmmaker is classified as a herpetophile, which is to say a person obsessed with reptiles, and was actually profiled in the New Yorker back in 2012 for his work trying to preserve a rare tortoise called the Astrochelys yniphora. Speaking with the Los Angeles Times, he admits that he has a fascination with people who keep animals, which surely inspired his work on the Netflix documentary.
Carole Baskin Is Super Unhappy About How Tiger King Came Together
This fact couldn't be featured in Tiger King simply because it's a response to the completed work, but it should be noted that Carole Baskin is far from happy about how she is represented in the documentary, and feels that she was misled about the series' content. Via posts on BigCatRescue.org, Baskin says that she was led to believe that she was participating in "the big cat version of Blackfish," has refuted a selection of statements made, and has attacked those who accuse her of murdering her former husband, Don Lewis. Directors Eric Goode and Rebecca Chaiklin refute those claims in the Los Angeles Times interview, saying that the documentary evolved as the story continued to unfold, and that Baskin "wasn't coerced" into talking about her personal life and backstory on camera.
Joe Exotic Is Loving Tiger King's Popularity
While Carole Baskin isn't a fan of the Tiger King documentary, Joe Exotic most definitely is. The documentary doesn't exactly paint the guy as a model citizen (it actually exposes many of his criminal activities beyond the ones that got him sent to prison), but the titular subject is apparently just appreciative of the attention. Per Eric Goode, he is "absolutely ecstatic" about the "idea of being famous," and has taken on a new cause by being an advocate for criminal justice reform ("He is in a cage and of course he's gonna say that he now recognizes what he did to these animals.")
Could all of the dangling threads left by the end of Tiger King potentially result in a second season, a la Making A Murderer? We'll have to wait and see, but for now stay tuned here on CinemaBlend as we continue to dive deeper into the madness that is this new documentary series.
Your Daily Blend of Entertainment News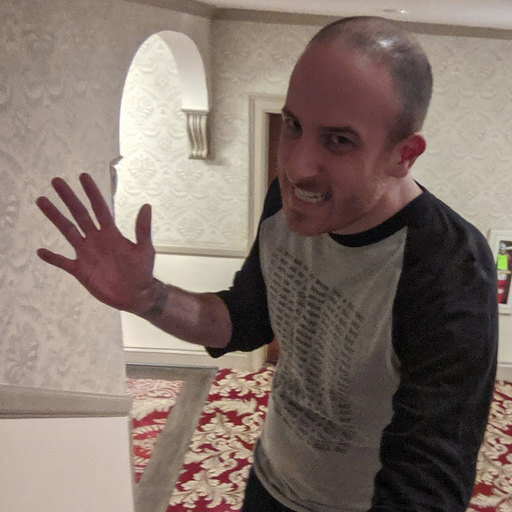 Assistant Managing Editor
NJ native who calls LA home and lives in a Dreamatorium. A decade-plus CinemaBlend veteran who is endlessly enthusiastic about the career he's dreamt of since seventh grade.