Plot Twist: The View's Joy Behar Is Denying Those Retirement Rumors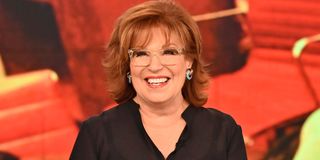 There's a lot of uncertainty in the world right now, but one thing viewers can feel confident in is knowing that Joy Behar won't be leaving The View anytime soon. Earlier this week, a report noted that Behar's contract would be up in a couple of years, reportedly indicating that she would exit the show in 2022 and retire. However, in a recent episode of The View, Behar addressed the speculation, denying the retirement rumors. Plot twist!
In the pages of Ramin Setoodeh's book, "Ladies Who Punch: The Explosive Inside Story of 'The View'," Joy Behar was quoted saying that she had a three-year contract and that she doesn't see herself staying past the contract's expiration date. In a clip from the latest episode of The View, co-host Whoopi Goldberg brought up the topic of Behar possibly leaving the show and Behar quickly set the record straight, refuting the allegations, and joking that the "rumors of my retirement have been greatly exaggerated." Here's what she had to say about her alleged retirement:
That's a relief for fans of The View. However, while it's important to note that Joy Behar did say that she would "probably be here" if she was still fabulous in two years, the full quote per Variety was, "But the chances of that happening… You know, time marches on. I'm not a kid." Check out the full clip of Behar addressing the rumors below!
In the clip, Whoopi Goldberg likened Joy Behar leaving the series as "breaking up the band," to which Behar gently reminded her that the "band" had indeed broken up many times before. That's true. Earlier this year, Abby Huntsman bid adieu to the series. Her departure was rather abrupt, but Huntsman was quick to assure viewers that it wasn't due to any behind the scenes quibbles with any of her co-hosts.
Years prior, Elisabeth Hasselbeck was fired from the show and she finally opened up about her emotional departure in 2019. So, if Behar ever does decide to leave The View, then it wouldn't be the first time a co-host departed the series and likely won't be the last. For now, however, Behar seems fine where she is.
The View airs weekdays at 11 a.m. ET on ABC. For more on the status of TV shows, be sure to check out our updated list regarding delays and shutdowns.
Your Daily Blend of Entertainment News