Wow, Tiger King's Rick Kirkham Reveals Gruesome Incident That Was Left Out Of The Docuseries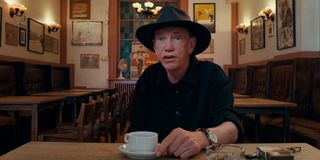 Netflix's Tiger King: Murder, Mayhem and Madness is still incredibly popular but, now that it's been a few weeks since its release, information has been pouring out about what happened to the tigers after the docuseries wrapped and certain elements that could have gotten more screentime. There's still a lot of behind-the-scenes info coming to light, that's for sure. Most recently, Tiger King's Rick Kirkham revealed a gruesome incident that was left out of the docuseries altogether.
Rick Kirkham, who once served as producer of Joe Exotic's reality series before his footage was lost in a fire, has a lot of thoughts about Tiger King and his time at Exotic's big cat park. He recalls a specific incident allegedly caught on camera that showcases Exotic's abuse of animals. As Kirkham tells E! Daily Pop, a woman showe up at G.W. Zoo one day asking Exotic to take her old horse in hopes that he would care for it. However, Exotic reportedly killed the horse instead. Here's what Kirkham claims happened:
Rick Kirkham adds that Joe Exotic would allegedly kill the older tigers and "feed them right to the other tigers." As you can tell, the details of the reported story are rather gruesome and disturbing, but it does seem to fall in line with the allegations that Joe Exotic — whose real name is Joseph Maldonado-Passage — has reportedly killed and abused animals during his time running the big cat zoo.
Rick Kirkham, who says that he's back in therapy following Tiger King's release and subsequent rise in popularity, further claims that the docuseries is incredibly precise in its depiction of Joe Exotic and the events that transpired. However, he believes that Tiger King "didn't go near as far as it could've gone." In his words:
Joe Exotic is currently serving a 22-year prison sentence after being charged with killing five tigers and committing other wildlife violations, in addition to being found guilty for a murder-for-hire plot involving Big Cat Rescue CEO Carole Baskin. That said, People reports that Exotic is not currently facing any criminal charges for allegedly killing the horse that Rick Kirkham references.
Tiger King is getting an additional episode called The Tiger King and I, which will feature interviews with those involved in the docuseries. It'll be hosted by Community's Joel McHale and will premiere on Netflix on April 12. In the meantime, viewers can still watch Tiger King: Murder, Mayhem and Madness on the streaming service.
Up next: Netflix's Tiger King: 9 True Facts That Didn't Make The Documentary
Your Daily Blend of Entertainment News