American Idol Top 10: My Early Guesses For Who Will Move On In Season 18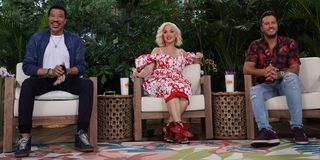 American Idol Season 18 is just one contestant away from concluding its Top 20, and it seems like this year's talent pool will give Season 17 a run for its money. Even with the time in quarantine it'll be hard to whittle down these contestants to a much smaller number, as the remaining competitors range from great to phenomenal.
Even so, I've seen some standouts in American Idol Season 18 that certainly have a better shot than others at making the Top 10, and potentially winning this entire competition. Here are my top picks thus far and the contestants I believe will end up finding their way to the latter stages of the competition.
Arthur Gunn
When this Nepalese native opens his mouth, it's hard not to think he's a star already. Arthur Gunn has that raspy folk voice that is still popular on pop and alt-rock stations today, and could be for quite some time. Gunn has shown he's able to perform covers of CCR songs to perfection, and has even managed to transform those same songs into something entirely different but still amazing.
Arthur Gunn's strong voice is enough to carry him to American Idol's Top 10, but I believe it'll be his ability to innovate and transform classic songs that can propel him to a Top 3 finisher. Alejandro Aranda showed in 2019 that audiences often award creativity, and talented musicians who show they can do more than karaoke. At least to a certain point, though I don't think Gunn necessarily needs to win Idol to be a famous face in America after this.
Just Sam
Brooklyn subway singer Just Sam has won the hearts of American Idol fans with her phenomenal voice, and her consistent streak of breathtaking performances thus far. She's batting a thousand as far as that's concerned, though the show's edit of every performance shows her convinced it will be the one to fall apart. Is Sam always on the brink of disaster, or does she just lack confidence in herself?
It's something I'll have to wait and see, because I think Just Sam is a strong contender to win American Idol. My only hesitation is how we've seen her have some sort of breakdown before literally every performance, though it has yet to affect any of those performances. Still, with live shows coming up, one bad performance is the difference between staying and going. Sam will have to stay composed to ensure her survival. If she can do that, I think it's not crazy to think she'll win this whole competition.
Francisco Martin
Speaking of contestants who have issues with composure, Francisco Martin is another contestant who could stand to gain a little confidence via American Idol. Martin has proven himself to be a capable singer despite his visible anxiety in performances, but will that hold up down the stretch?
It's an excellent question, and one that had me second guessing even having him in my Top 10. Ultimately, I opted to roll the dice because Francisco Martin has the singing ability to go very far, and perhaps he'll have some time during quarantine to evaluate past performances and potentially work on managing his anxiety just a bit better.
Kimmy Gabriela
If ever there was a contestant born to be on American Idol, it's Kimmy Gabriela. This 17-year-old singer has a voice that could out-sing some of the modern diva singers of our day, and the confidence to breeze her way into the late stages of the game.
The only real downside to Kimmy Gabriela is that she's a story American Idol has seen again and again. As the judges said before the postponement, sometimes it takes more than talent to make it on American Idol. Gabriela's voice alone should be enough to get her to the late stages of this competition, but I think we'll have to see some more creativity and risk down the stretch in order for her to win.
Franklin Boone
Armed with just a guitar and his voice, Franklin Boone has belted out some impressive covers for the American Idol audience so far. He's had a rather easy ride so far, but that's no freak streak of luck. More than any other competitor, I think Boone is aware of the artist he is, what songs he can do, and stays in his lane rather well.
If Franklin Boone were to be eliminated from American Idol Season 18, I think it would happen on one of the themed weeks. That is to say, I think Boone could get dropped with a bad song choice, which contestants are often backed into when the song choices are restricted to a certain artist or genre. It's not exactly fair, but in all honesty, perhaps that should be a tagline for most reality competitions.
Lauren Spencer-Smith
Can a Canadian become an American Idol? It's a question audiences will eventually have to answer in regards to Lauren Spencer-Smith. The Vancouver Island resident wowed Luke Bryan with her voice, and has had no lack of confidence in her abilities thus far in the competition.
All that being said, I think Lauren Spencer-Smith suffers from the same issue Kimmy Gabriela may face down the stretch. She's got the talent, but will she be able to put on performances that rival the biggest personalities in this competition? For her sake, I hope so.
Jonny West
Jonny West has been hyped as an artist to watch since his American Idol audition, and it's pretty easy to see why. He's a talented singer, and while he may not have his girlfriend and former competitor Margie Mays along for the ride, that didn't seem to impact the performance that landed him in the Top 20.
Jonny West is certainly a talent, though if I'm being honest I have yet to enjoy any of his performances as much as his initial audition. I would love to see him get back to the singing/rap style he had in the audition, and think he'll need it to advance to the end of Season 18. If not, I can see him being one of the earlier exits of a Top 10.
Sophia Wackerman
At every stage of the game thus far, Sophia Wackerman has absolutely brought it in the best way. She's one of those American Idol contestants where it's very clear she knows who she is, what she can do, and she has what it takes to win this competition.
For anyone who thinks Sophia Wackerman is a favorite to win this competition, I don't disagree. If this season goes for more of the standard winner American Idol is known to churn out, she's the one who fits the bill.
Dillon James
Dillon James is perhaps the most recognizable contestant in American Idol Season 18. His cowboy hat, body of tattoos, and story of redemption made him a quick fan favorite on the program, but will this Bob Dylan-loving singer survive to the late stages of the game?
I'm skeptical, but only because I haven't seen Dillon James deviate much from what he's done since his first audition. Although he's good enough at what he does to survive for a while, eventually the niche crowd of folk music enthusiasts will be outweighed by those looking for a more modern sound. If James can show more range down the stretch, perhaps he can make it close to the end of Season 18.
Olivia Ximines
Olivia Ximines is one of the youngest talents in American Idol Season 18, and without question one of the most powerful voices. She hasn't gotten quite as much screentime as other competitors thus far, but after her performance of "Proud Mary," I don't think it's crazy to say she's a Top 3 talent in this competition.
Ximines has what it takes to win American Idol, but she's at the mercy of America and a lot of other talented contestants. This talent pool is so strong it could really come down to one bad performance for the difference on who stays or goes.
Any names left off this list that should be here? Throw all suggestions into the comments and be sure to tune in to American Idol on ABC Sundays at 8:00 p.m. ET. Continue to stick with CinemaBlend for more on the singing competition, and for the latest news happening in television and movies.
Mick likes good television, but also reality television. He grew up on Star Wars, DC, Marvel, and pro wrestling and loves to discuss and dissect most of it. He's been writing online for over a decade and never dreamed he'd be in the position he is today.
Your Daily Blend of Entertainment News
Thank you for signing up to CinemaBlend. You will receive a verification email shortly.
There was a problem. Please refresh the page and try again.