6 More Wild Stories From Netflix's Tiger King Spin-Off The Tiger And I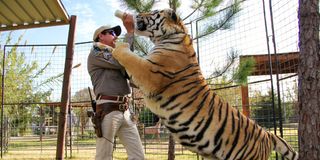 As anyone who has watched it can tell you, Tiger King is one hell of a ride. In addition to exposing some truly horrific abuses in the world of big cat ownership, it also reveals that particular world is one full of some ridiculous characters and truly terrible people – the central three being Joe Exotic, Carole Baskin, and Bhagavan "Doc" Antle. The series manages to jam a hell of a lot of content into 317 minutes, but in the weeks since its release it's been proven that there are still a lot more details within the larger story that we don't know about. Hence, we now have The Tiger And I to enjoy.
Netflix has launched the 40-minute piece as an extra episode of Tiger King, featuring host Joel McHale talking with numerous people from the documentary who have seen their lives totally change as a result of the series. Much of the show is dedicated to catching up with the individuals and their reactions to the massively popular release, but they also provided us with some more wild stories that have once again dropped our jaws… and we have highlighted the six best right here:
Joe Exotic Is Apparently Terrified Of Big Cats
Based on what's shown in Tiger King, big cat owners seem to love the power rush that comes with being around massive creatures that can easily tear them to pieces – but according to Robert Kirkham, everything we see in that regard from Joe Exotic is purely for show and an ego demonstration. The former O'Reilly Factor producer says that Exotic is actually "terrified of lions and tigers," and had a particular trick to make himself look braver than he was: one of the cats he was regular filmed with was blind, and the other one was sedated with tranquilizers. With that in mind, it doesn't really seem to be fitting to call him the "Tiger King," now does it?
Joe Exotic Blew Up John Reinke's Golf Cart And Cabin
Toward the end of Tiger King, things start to get a bit more violent and explosive, with the murder-for-hire plot emerging, and Joe Exotic's film studio burning to the ground, but John Reinke reveals in The Tiger And I that there were more episodes involving fire that weren't covered in the seven episode documentary series. While the animal handler formerly employed at Exotic's zoo didn't provide much in the way of context, apparently his boss decided to blow up Reinke's golf cart and his cabin. Sadly there weren't any follow-up questions answered about these incidents providing any kind of explanation for why they happened, so we'll just have to wait for another follow-up episode to provide the details.
Joe Exotic Shot A Horse And Fed It To His Cats
There is a good portion of The Tiger And I that drives home the horrible animal abuse that occurred on Joe Exotic's watch, but Robert Kirkham's story about a horse that was left in the zoo owner's care particularly illustrates why the so-called Tiger King deserves to be in prison serving the sentence he was given. According to Kirkham, a woman traveled to the property with an ailing horse believing that she could leave it with Exotic so that he could give the equine a good home and proper care before it died. As soon as she drove off, however, Exotic took out a gun and shot the horse in the head, telling his producer that he didn't take care of other people's animals and that it would just be used for feeding his cats.
Joshua Dial Knew He Was Working With S "Natshit Crazy Person" Going In
One of the most memorable lines in all of Tiger King is featured in Joshua Dial's introduction, explaining that the 18 months that he spent as Joe Exotic's campaign manager was "the worst experience of [his] life." As revealed in The Tiger And I, however, it was evidently a job that the proud libertarian recognized as hazardous from the very beginning. Rather than seeing working for Exotic as an opportunity to get into politics and then discover his boss' eccentricities along the way, the former campaign manager knew that he was working for a "batshit crazy person" before he went to the zoo looking for a job. Hopefully people in the future will learn a lesson from Dial and avoid employment from people who fit that description.
Joe Exotic Sought Comfort From A Shaman After Travis' Death
In our modern world, there are many resources that a person can utilize following a traumatic event, from personal and group therapy, to various help lines, but Joe Exotic decided not to pursue any of those traditional routes following the unexpected death of his husband, Travis Maldonado. Per Joshua Dial, who experienced his own trauma having personally witnessed Maldonado's accidental death, the only kind of counseling that Exotic got after the incident was from an unnamed shaman. In The Tiger And I, Dial expresses that he doesn't hold any particular prejudice against holistic approaches towards grief, but he also believes that the shaman didn't help his employer, and instead actually did more harm than good.
Joe Exotic Kept People Down By Telling Them They Couldn't Run The Zoo
Tiger King is arguably a series about a trio of big cat-centric cults, with each of the organizations featuring many of the recognizable traits – including hierarchies serving under an eccentric leader, and recruitment strategies typically targeting destitute and vulnerable individuals. Right alongside these behaviors is leaders belittling their followers in order to secure their position at the top, and John Reinke reveals in The Tiger And I (opens in new tab) that Joe Exotic did this constantly. Reinke says that the zoo owner never recognized his contributions to the park and the work that he was doing taking care of the animals, and instead regularly demeaned him and other employees by telling them that he couldn't run the zoo, and wouldn't know how to if he tried. "He always tried to keep people smaller than him, Reinke explains in the follow-up episode.
The world of Tiger King seems to be an endless well of fascinating stories, and The Tiger And I is just the latest piece to reveal more of the insanity. The whole thing definitely isn't going away any time soon, so stay tuned here on CinemaBlend as we continue to track this wild tale.
Your Daily Blend of Entertainment News
Assistant Managing Editor
NJ native who calls LA home and lives in a Dreamatorium. A decade-plus CinemaBlend veteran who is endlessly enthusiastic about the career he's dreamt of since seventh grade.
Your Daily Blend of Entertainment News
Thank you for signing up to CinemaBlend. You will receive a verification email shortly.
There was a problem. Please refresh the page and try again.