Luke Evans Shares How ABC Accomplished Its Viral Disney Sing-Along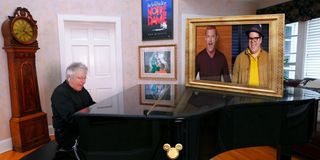 This week, ABC aired The Disney Family Singalong. Joined by some of Disney's biggest stars, the hour-long event included several of the most memorable Disney tunes. Glee's Amber Riley belted her heart out singing Frozen's "Let it Go," Ariana Grande had some fun with Hercules' "I Won't Say I'm in Love," and Beyoncé sweetly sang "When You Wish Upon a Star" from Pinocchio. How did it all come together, though? Well, Luke Evans recently shared the magic behind how ABC accomplished its viral Disney singalong.
Luke Evans reprised his role as Gaston and joined Josh Gad and composer Alan Menken to enthusiastically sing the self-titled song from Beauty and the Beast because, well, no one sings like Gaston, am I right? Evans put all of his energy and focus into making the performance a memorable one for those watching from home, even puffing out his chest at one point, as Gaston would absolutely do. But who was recording him and how did it all come together?
Over on Instagram, Evans let viewers in on the secret behind the Disney Family Singalong magic. Check out his post below:
So there you have it. Even though everyone is currently safe at home in quarantine, no show can go on without a lot of help from an experienced camera crew and editing team. Without them, viewers may have gotten a lot of shaky camera work and poor quality videos. And it looks the camera operator was standing at least six feet away from Luke Evans. Bravo for following social distancing guidelines!
Luke Evans looked to be standing in a living room, but so many of the stars chose their kitchens as the sing-along spot. Meanwhile, Amber Riley opted to stand in front of a green screen while scenes from Frozen played behind her, and Derek Hough danced his way through "Be Our Guest" with some intricate camera work, all of which wouldn't have been possible without the work of the crew.
The magic didn't end there, however, and the cast of High School Musical reunited for a spirited rendition of "We're All in This Together." Fans were disappointed, however, when they realized Zac Efron would only be introducing his castmates and wasn't going to join in on the sing-along fun. Luckily, that performance was saved for last and fans got to enjoy the rest of the songs sans disappointment.
The sing-along was only an hour-long and ended far too soon, but you can tune in on Saturday, April 18 at 8 p.m. ET for the One World: Together At Home concert, which will air across all NBC networks, ABC, ViacomCBS networks, The CW and iHeartMedia channels, as well as across social media platforms like Twitter, Instagram, and YouTube. For more on what to watch, be sure to check out our list of all the big TV finales coming up soon.
Your Daily Blend of Entertainment News
Your Daily Blend of Entertainment News
Thank you for signing up to CinemaBlend. You will receive a verification email shortly.
There was a problem. Please refresh the page and try again.