8 Things You Might Not Know About Ariana Grande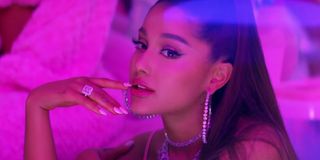 There's a good chance you know about Ariana Grande. The 26-year-old music artist is among the most famous young musicians working today. She continues to build her career and rise up the charts with each new hit, and she has a fanbase that only continues to grow. While her followers know a whole lot about the music superstar, especially since she's a pretty open, forthcoming artist, there are a few interesting facts about her glamorous life that even her fans might not be privy to. Here are some intriguing details about Ariana Grande that you might not know, even if you're a huge super-fan.
Gloria Estefan Recognized Her Talent When Ariana Was Just 8 Years Old
Even from a young age, it was clear as day that Ariana Grande was an exceptionally talented young woman. She was singing even before she was in the double digits, and her musical talents caught the attention of some very famous people. Specifically, singer-songwriter Gloria Estefan was quick to recognize the future superstar's talents, and she was also quick to admit as much. During an interview with New York Daily News, Estefan said she first saw Grande sing on a cruise ship when she was just eight-years-old, and she was already blown away by what she heard from the young performer. In fact, Estefan recalls going up to Grande and her mother and saying:
The Wizard Of Oz Was Her Favorite Movie Growing Up
Do you remember the first song you ever sung? I can't imagine most people do, but Ariana Grande claimed that the first song that she remembers singing was "Somewhere Over the Rainbow," the classic opening song from The Wizard of Oz — which, not so coincidentally, was Grande's favorite movie as a kid, by her own admission. Fans got a chance to hear her version of this classic song during her live performance in Manchester in 2018. Furthermore, Grande admits that the emotional rendition of this classic song was picked in part because the song was her own grandfather's favorite.
Ariana Grande Considers "Put Your Hearts Up" To Be A Learning Experience
Suffice to say, most people are inclined to resent something from their past. Be it big or small, you've probably slipped up at some point, said the wrong thing at the wrong time, or made a decision you later regret. When it comes to Ariana Grande, while she might not consider her 2011 single, "Put Your Hearts Up," a mistake, but from the way she spoke about it, it sounds like she regrets it. In an interview, Grande admitted that it was a "learning experience," but it was "sonically" not "her vibe." The artist admits it's not the kind of song she likes to sing, and she claimed it was a "bubblegum pop record" that's not the more "soulful" music that she prefers to sing. While Grande admits she enjoys bubblegum pop music, she confessed it wasn't "right" for her.
"Baby I" Was Originally Written For Beyonce
Once a song becomes a hit, it's hard to imagine it sung by anyone else. Oftentimes, it's the performer themselves that makes the song special, giving it the star power quality that makes it worth listening to again and again. Indeed, "Baby I" is one of several hit songs sung by Ariana Grande. But initially, it was meant to be a Beyonce single. At least, if Babyface, who wrote the song, had his way. When he penned the hit tune, the songwriter originally had Beyonce in mind. But Queen Bey rejected it, and somewhere down the line, it made its way to Grande. She sang the tune, and it went on to become one of the hits from her 2013 album, Yours Truly. We're sure Beyonce wasn't sad to see it go, though. Goodness knows, the world-recognized musician has several hit songs of her own to contend with. And "Baby I" continued to forge Grande's path to success. In a way, I guess you can call it a win-win.
Ariana Grande Has Nine Dogs
Ariana Grande is a dog lover. There's no doubt about it. While the musician is often seen sporting cat ears, she is unfortunately allergic to felines, which means that she opens her heart to canines instead. And the artist has adopted quite a few over the past few years. And by "quite a few," we mean ... nine. That's right; Grande is the dog mommy to nine little dogs named Coco, Toulouse, Cinnamon, Strauss, Lafayette, Pignoli, Myron, Snape, and Lily. Plus, a lot of them — if not all of them — are rescue dogs to boot! Clearly, Grande has a big heart, and the superstar likes to fill it with many little dogs.
At 10, She Co-Founded A Singing Charity Group, Kids Who Care, And She Raised Over $500,000
Even from a young age, Ariana Grande was using her talents for good. Specifically, as a child, she co-founded a singing charity group called Kids Who Care in South Florida, and their efforts were enormously successful. To be precise, the kid singing group raised over $500,000 dollars in 2017 alone — and all for a good cause. Suffice to say, even when she was barely in the double digits, Grande provided her talents for good to those less fortunate.
Ariana Grande Is Hypoglycemic
Over the years, Ariana Grande has been forthcoming about her ailments and mental health concerns. She has been candid about her post-traumatic stress order and anxiety following the tragic 2017 Manchester Arena Bombing. Grande has also admitted that she is a hypoglycemic, which means that the young musician has low blood sugar and that she can be prone to serious symptoms that include (but not limited to) clumsiness, trouble talking, confusion, loss of consciousness, and seizures. These are certainly serious matters, though it seems like the artist takes them seriously as well, and she has also used her platform as a world-famous musicians with millions of devoted fans to bring awareness and openness to these serious matters.
Ariana Grande's Name Is Reportedly Inspired By Felix The Cat
While it hasn't been confirmed by the artist herself, there have been reports published widely that suggest that Ariana Grande's name was inspired by an unlikely source. Specifically, her parents named their famous daughter after Princess Oriana from Felix the Cat. Whether or not that's true is not entirely confirmed, but given her history of sporting cat ears —even though she's unfortunately allergic to the animal — suggests this rumor might be the truth.
Did you know these fun facts about Ariana Grande? What's something you think every Ariana Grande superfan should know? Tell us in the comments!
Will is an entertainment writer based in Pittsburgh, PA. His writing can also be found in The Playlist, Cut Print Film, We Got This Covered, The Young Folks, Slate and other outlets. He also co-hosts the weekly film/TV podcast Cinemaholics with Jon Negroni and he likes to think he's a professional Garfield enthusiast.
Your Daily Blend of Entertainment News
Thank you for signing up to CinemaBlend. You will receive a verification email shortly.
There was a problem. Please refresh the page and try again.