Lady Gaga Has Apologized To Jimmy Fallon For Hanging Up On The Tonight Show Last Week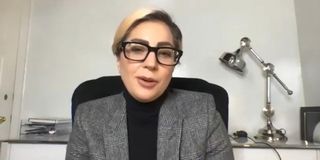 Lady Gaga's first in-home appearance on The Tonight Show Starring Jimmy Fallon ended with the host getting red-faced and Gaga awkwardly hanging up on him mid-interview. Throughout that half-interview on The Tonight Show's at home edition, which initially took place on April 1, Gaga seemed distracted, with other people speaking to her and phones going off in the background as she FaceTimed with Fallon. It was a bit of a disaster, but Gaga made another appearance on the show and she apologized to Fallon for what happened.
The singer was back to speak with Jimmy Fallon again this week, and the host thanked her for honoring her word by joining The Tonight Show once more. Lady Gaga, who is quarantined in her office, looked a bit embarrassed about what happened the last time she was on the show and explained the reasons for why last week's blunder occurred, which effectively prevented her from announcing the One World: Together At Home concert set for April 18, which she had helped organize. However, before she could get to all the details regarding the event for the second time, she profusely apologized to Fallon. Here's what she had to say:
Times are challenging right now, so it's understandable that Lady Gaga and others may not have been as prepared as previously thought for that first interview. I'm sure she was still taking phone calls and finalizing event details when she first hopped on to speak with Jimmy Fallon. Thankfully, Gaga was fully ready for her appearance the second time around and spoke succinctly and passionately about the concert and other topics. You can watch the full interview clip below!
Later on in the interview, Lady Gaga discussed how the One World: Together At Home concert came together, for which she partnered with the World Health Organization to bring focus on supporting the United Nation's COVID-19 relief fund. The concert will air live on TV and across social media platforms, and is set to include performances by Lizzo, Billie Eilish, Elton John, and John Legend among several others, with each guest live-streaming the concert from their place of quarantine.
It was key for Lady Gaga to announce the show on The Tonight Show since Jimmy Fallon will be co-hosting the event along with late night rivals Jimmy Kimmel and Stephen Colbert. The concert will also include guest appearances by Scandal's Kerry Washington, Idris Elba, and David Beckham.
The Tonight Show Starring Jimmy Fallon continues airing weeknights from Fallon's home at 11:35 p.m. ET on NBC. Meanwhile, the One World: Together At Home will air live on Saturday, April 18. Check local listings for times and stay tuned to CinemaBlend for updates.
The coronavirus pandemic and subsequent production shutdowns have shaken up regularly scheduled programming, so be sure to also check out our updated TV list of all major network and streaming delays.
Your Daily Blend of Entertainment News