How What We Do In The Shadows Got Mark Hamill For Season 2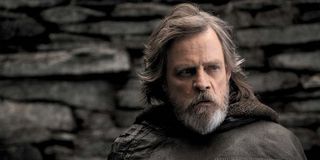 Late last year, Mark Hamill tweeted about an exciting new project, one he couldn't discuss due to non-disclosure agreements. That secret project he "really, really loved" turned out to be a guest spot on Season 2 of FX's What We Do in the Shadows. Recently, What We Do in the Shadows showrunner Paul Simms explained exactly how they got Mark Hamill onboard for the new season.
In Season 1 of the show, an episode in which Nandor, Nadja, and Laszlo visited the vampire council revealed a number of surprise guest stars, including True Blood's Evan Rachel Wood, Tilda Swinton, Blade's Wesley Snipes, and executive producers Jemaine Clement and Taika Waititi — both of whom directed and starred in the 2014 film the series is based on. For Season 2, What We Do in the Shadows managed to land Mark Hamill, which was an impressive feat. So how did his guest role come about? Here's what Paul Simms told The Hollywood Reporter regarding his appearance:
Honestly, that's a great story. It's no secret that Mark Hamill really enjoyed Season 1 of the show and has said as much on social media. I'm also glad Hamill's schedule was open for him to appear. That said, whether or not the Star Wars actor will be playing a vampire or another supernatural creature is still unclear.
Paul Simms did confirm there won't be quite so many guest stars appearing in one episode in Season 2 so, if viewers were expecting another vampire council-esque episode, they might be disappointed. However, Simms did tease other surprise appearances throughout the season. In his words:
It's too bad they weren't able to keep Mark Hamill's appearance a surprise, but I'm sure his role will be a fun addition to the show regardless. I also wonder who the "funny character" from Season 1 will turn out to be, but we won't have to wait too long to find out.
What We Do in the Shadows Season 2 airs every Wednesday at 10 p.m. ET on FX (and Hulu). For more on what to watch in the coming weeks, be sure to check out our full list of all the big TV finales.
Your Daily Blend of Entertainment News