WWE Responds To Accusations Of Forcing Employees To Work Through Stay-At-Home Orders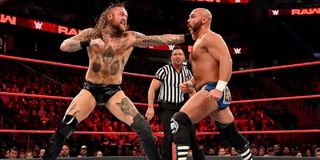 Unlike most forms of entertainment that have resorted to shutting down or broadcasting from home, the World Wrestling Entertainment has stayed consistent with its weekly shows and even the recent WrestleMania 32. However, potential cracks started to show during the recent Orange County Board of County Commissioners meeting, where a public complaint was filed anonymously by claiming to be a WWE employee going by the name "John," who alleged that he and others were being forced to work during the WWE's Performance Center TV tapings. Recently, WWE reps responded to the accusations that the company was allegedly making employees work through stay-at-home orders.
WWE employees reportedly continued working despite an initial Orange County ruling that claimed WWE as a non-essential business during the coronavirus pandemic — a ruling that has since been overturned. The anonymous employee alleged that, despite sanitary precautions, the staff members weren't maintaining social distancing measures, often coming into physical contact with each other while on the job. The complainant also claimed to be too afraid to report it to WWE's higher ups for fear of losing their job. WWE representatives issued a statement PWInsider that addressed and denied the anonymous accusations. Here's what it read:
The anonymous employee is said to have requested that the government shut the WWE's show tapings down so that the staff could abide by social distancing measures without losing their jobs.
After Governor DeSantis ruled that the WWE was an essential business in April, the company furloughed a lot of its employees and released a number of in-ring talent, claiming to save the WWE $4 million a month. According to Fox Business, it wasn't confirmed exactly how many employees were impacted by the furloughs, but company execs alleged that the decision was only a temporary one. In addition to the furloughs, company executives and board members are to see a temporary decrease in their income.
Meanwhile, the WWE is still going ahead with its live shows, but a recent change in the schedule decreased the amount of tapings done every week. Formerly live WWE shows like Friday Night SmackDown and Monday Night RAW have also long removed in-house audiences, and each show is being taped on separate days of the week, reportedly to allow for fewer people in the building.
The coronavirus pandemic has forced hundreds of TV productions to shut down. Late night variety shows initially adapted to the change by removing live studio audiences to maintain social distancing standards. However, Jimmy Fallon, John Oliver, and all other late night hosts took to recording segments from the safety of their homes, opting to do video interviews instead in hopes to comply with quarantine efforts.
Stay tuned to CinemaBlend for more on the WWE and other TV news updates. In the meantime, be sure to check out our 2020 summer schedule to find out what shows are premiering soon.
Your Daily Blend of Entertainment News