Even Celebs Like Jimmy Fallon And Ellen Have Nothing To Talk About But TV Right Now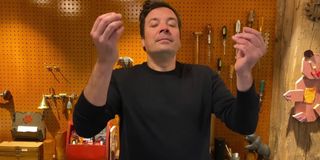 In the weeks since we've all gone into self-isolation, there's been plenty of television to go around, but daytime and late night hosts in particular have had to really re-evaluate and rework the way they are doing things. We've seen hosts from Ellen Degeneres, Jimmy Fallon, James Corden, Seth Meyers, Jimmy Kimmel and Stephen Colbert expand their platforms through celebrity interviews on YouTube and Instagram, but a lot of them have one thing in common: There's not much to talk about but TV right now.
Well, that's not strictly true, as celebrities like the ever-charming Kristen Bell and Dax Shephard have been honest about what life in isolation is like – they're sick of each other, as they told Katie Couric. However, normally celebrity interviews do not touch on the mundanity of their regular lives, yet in this case they have, and for a lot of people that means TV.
Jimmy Fallon's been doing something he's dubbed The Tonight Show At Home, and I've seen him talk to a lot of celebrities about television. Here's Fallon talking to Adam Sandler about watching old basketball and baseball games.
Adam Sandler at the time even said, "It's like wow, I can't believe this is what we do." But he's not the only one. When Jimmy Fallon interviewed Kim Kardashian West, they totally spent time talking about Netflix's viral new documentary series Tiger King as well as Love Is Blind after commiserating about not having enough stuff to do at their homes.
Kevin Hart talked about not being able to watch the TV he wants to watch in an interview with Ellen DeGeneres, noting "his son" runs the household among other funny complaints during quarantine. Ellen DeGeneres also talked to Michelle Obama about television and the former First Lady admitted her family has been doing a lot of "Netflix and chillin" before Ellen copped to doing the same.
The point is, quarantine is pretty similar for a lot of people, including people who normally have their days peppered with a variety of promotional or even on set opportunities. Some people, like Martha Stewart, have told late night hosts (in this case Seth Meyers) about various other at home activities they have been doing (she's been gardening to fill the time). Meanwhile, Daniel Radcliffe has been killing time by doing insane LEGO sets as he revealed to Stephen Colbert.
While The Ellen Show and The Wendy Williams Show are getting back into production this week, it could still be a while before sports, new movie projects and other facets of entertainment get off the ground. Luckily, though, Chrissy Teigen has a new show coming to Quibi when it launches, so that's actually more of the usual TV bent we get on talk shows.
The point is, we often think of celebrities and even late night hosts as living these interesting and colorful lives. Right now, they're all watching TV like the rest of us and some of them are bored.
In any event, I don't blame Ellen DeGeneres, Jimmy Fallon or any others for these impromptu YouTube shows for the many questions about what celebrities are currently watching. They are all giving fans unprecedented looks into the lives of celebrities during this unique and sometimes frustrating time period in society. And they've done a lot more than ask about Tiger King, sharing memorable stories from their pasts, finding ways to put on musical performances and more.
Stuff is likely to continue to change and advance in the late night game as people are kept away from work, but if any more television goes viral, we'll be sure to keep you posted.
Your Daily Blend of Entertainment News
Reality TV fan with a pinch of Disney fairy dust thrown in. Theme park junkie. If you've created a rom-com I've probably watched it.