Why Brooklyn Nine-Nine Went For That Big Die Hard Reference In Season 7 Finale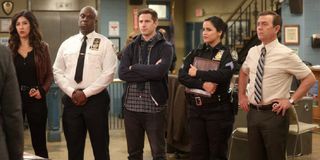 Warning! Spoilers ahead for the Season 7 finale of Brooklyn Nine-Nine.
Brooklyn Nine-Nine season finales are always memorable, and while so many of them have ended on teasy cliffhangers, Season 7's finale ended with a feel-good moment that simply felt right. Of course, the Nine-Nine had to contend with a city-wide blackout first, leading Amy to go into labor while Jake tried to stop a bank robbery. As awesome as that was, Brooklyn Nine-Nine finally gave Jake some Die Hard glory, and series co-creator Dan Goor explained why the NBC comedy went all-in on the biggest Die Hard reference of all to close out Season 7.
Andy Samberg's Jake Peralta is more than a little obsessed with Die Hard, having once made the squad take a detour while visiting Los Angeles, all so they could stop by the film's fictional Nakatomi Plaza (Fox Plaza). Knowing her husband's love of the film, Amy even role-played as Holly Gennaro McClane while on their honeymoon. And so, when it came time to name their son, Jake and Amy ultimately decide to call him Mac after Die Hard's John McClane. When Dan Goor was asked if there were any alternative baby names being floated around, here's what he told TVLine:
Hans Gruber Peralta would've made one hell of a name, but I can only assume that Jake and Amy's son would end up being mocked for the rest of his life because of it. Mac is a happy medium in that it's a tribute to Jake's love for Die Hard, but it's also not an exact replica of the lead character's name. (I wonder if It's Always Sunny in Philadelphia exists in this universe.)
Dan Goor also revealed that the Season 7 finale didn't end on a cliffhanger like normal, because they knew early on that the show was returning for Season 8, meaning he didn't have "to convince the network brass that they've gotta keep us going" through plot-dangling. However, he says the writers did float around the idea to leave the audience hanging regarding the baby's name. The idea was ultimately scrapped in favor of Jake, Amy and the rest of the squad being able to enjoy the moment together. Yippee-ki-yay, new mother and father!
Brooklyn Nine-Nine has been renewed for Season 8, though it's unclear when the series will begin production. In the meantime, be sure to check out our 2020 summer premiere guide for more on what to watch.
Your Daily Blend of Entertainment News