Brooklyn Nine-Nine: The Funniest Cast Members, Ranked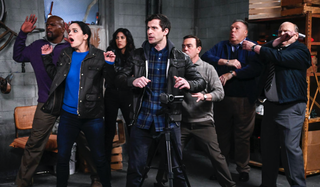 Brooklyn Nine-Nine is the rare TV series whose cast and characters are so damned funny and talented that the show's cancellation on one network (Fox) got completely reversed by another network (NBC), even without an overtly gigantic viewership attached. The squad of NYPD detectives returned for Season 6 in January 2019, earning its best overall ratings since Season 3, proving that the 99th precinct has staying power.
Here, we're breaking down the core members of the ensemble cast and ranking them by how hilarious they are. Note that we're taking into account not only how great the actors' characters are on Brooklyn Nine-Nine, but also how far their comedic efforts have spread outside the long arms of the law-abiding series.
9. Joel McKinnon Miller (Norm Scully)
With an acting career going back to 1991 – in an episode of Murphy Brown playing a character with the unforgettable name of "Joe Smith" – Joel McKinnon Miller has popped up in a slew of TV shows and movies, with HBO's Big Love being his biggest claim to fame ahead of Brooklyn Nine-Nine. For the past six years, however, it's been virtually impossible to view Miller as anything but the bumbling, messy and fungus-friendly desk jockey Norm Scully.
It's even more impossible to try and picture anyone else but Joel McKinnon Miller portraying Norm Scully...unless Brooklyn Nine-Nine used whatever actor they got to portray twin brother Earl Scully. (Yes, I know it was also Miller.) While the actor's off-B99 antics aren't so widespread, Miller's excellence makes the opera-singing Scully one of the silliest side characters on TV.
8. Dirk Blocker (Michael Hitchcock)
Of course, a Scully is only as good as the Hitchcock that sits next to him, and Dirk Blocker is prize partner. Watching his nuanced comedic skills on a weekly basis, it's ridiculously hard to grasp that Brooklyn Nine-Nine offered Blocker his first series regular work on TV since he starred in Black Sheep Squadron from 1976-1978. How wasn't he part of Leslie Nielsen's Police Squad! back in the early '80s?
When he's not portraying the lazy and hilariously dimwitted Michael Hitchcock – who has closed a startling amount of cases over the years for such a derp – Dirk Blocker is a frequenter of Twitter, where he has a large crowd of followers chiming in on his often amusing and insightful posts. Either Hitchcock or Blocker should get a storytelling stage-show at some point.
7. Melissa Fumero (Amy Santiago)
Oddly enough, Brooklyn Nine-Nine marked the first (and still only) time that Melissa Fumero has been at the forefront of a TV comedy. The actress is an absolute natural in the role of Amy Santiago, who blindly embraces all things rule-based and authoritative. To Fumero's humorous credit, Amy stickler-ness for grammar and procedure is often more endearing than it is annoying, which is certainly never the case in real life.
Having spent the early part of her career on the soap opera One Life to Live, Melissa Fumero might not have seemed like the optimal choice to co-lead a comedy opposite SNL vet Andy Samberg. But as she's shown over the past six seasons, as well as on her social media accounts, Fumero is capable of handling any challenge that comes her way, and she's always going to leave a smile on everyone's faces. (Note from Amy Santiago: "On everyone's face.")
6. Andre Braugher (Raymond Holt)
For what it's worth, I think Captain Raymond Holt is the funniest character on Brooklyn Nine-Nine, and it has everything to do with Andre Braugher's performance, which is consistently drier than a mouthful of crackers in the desert. Holt's enthusiasm sits squarely between 2 and 3 on a scale to 10, but Braugher manages to bring brilliant comedic range and depth to that limited scope every single second he's on screen
The reason why Andre Braugher doesn't show up higher on this list, though, is because Brooklyn Nine-Nine was such a distinct career change from the plethora of serious-minded projects that make up much of the rest of his career. (Homicide: Life on the Street for the win.) The actor's social media posts even come off as a silly mix between Braugher's abject sincerity and Holt's attempts to process wit. (R.I.P. Cheddar.)
5. Stephanie Beatriz (Rosa Diaz)
The differences between Stephanie Beatriz and her character Rosa Diaz are as standout as the differences between night and day, although both of them share the ability to make people laugh their asses off. Despite the fact that most of what she exudes is sardonic antipathy and wry intimidation, Rosa is a constant source of humor on Brooklyn Nine-Nine, and commands as much respect as she does fear. She's also not afraid to show emotions, which can sometimes be hilarious in and of itself.
Stephanie Beatriz, whose bisexuality was brought over to Rosa's TV story, is the earliest entry on this list with a sizable background with comedic roles. In recent years of small-screen work, she's recurred on Modern Family, Bob's Burgers and BoJack Horseman, and she also appeared on One Day at a Time (with Melissa Fumero) and in Andy Samber's co-created "visual poem" The Unauthorized Bash Brothers Experience.
4. Chelsea Peretti (Gina Linetti)
For the first time on this list, we've got a Brooklyn Nine-Nine star who actually has a career as a stand-up comedian. Chelsea Peretti is technically no longer a central part of the NBC series' cast, but she was around for a handful of Season 6 episodes, including her beyond-fabulous comeback arc in "Return of the King." ("Damn, Gina!") And while Gina Linetti's self-idolizing and constantly affronting comments are probably an acquired taste among viewers, Peretti's performances are always home runs.
Chelsea Peretti, who is married to comedian-turned-horror-maestro Jordan Peele, has been winning over audiences for years, whether it's through her unique Netflix special, her other stage shows, on talk shows, on podcasts, or on comedy-related series such as Amazon's Inside Jokes. Peretti is also actively ridiculous on social media, where Brooklyn Nine-Nine fans will recognize a lot of similarities to Gina Linetti's flamboyant thought processes.
3. Terry Crews (Terry Jeffords)
While Holt might be the downright funniest character on Brooklyn Nine-Nine, Terry Jeffords is arguably the most charismatic character in the station, thanks to actor Terry Crews' endlessly beaming personality. Crews excels at playing against expectations, showing off Terry's sensitivity and lighthearted nature, while utilizing his massive size less often. (Unless there's sparkly gold paint involved, or some Old Spice to promote.)
Helping Terry Crews Brooklyn Nine-Nine comedy along is the fact that he's a seasoned pro in the genre, having starred in sitcoms like Everybody Hates Chris and Are We There Yet? He's also made some excellent and eye-grabbing appearances on everything from Arrested Development to Lip Sync Battle to Drunk History. (The Brown Bomber!) Those skills are how he was able to land hosting gigs on Who Wants to Be a Millionaire? and the most recent season of America's Got Talent. Add to that an always interesting social media account, and you've got a celeb working on all the comedic cylinders.
2. Joe Lo Truglio (Detective Charles Boyle)
Joe Lo Truglio is the resident comedy legend on the Brooklyn Nine-Nine cast, having served as one of the founding members of the comedy troupe The State, which achieved cult status both through the group's self-titled MTV sketch series and through the team's stellar spoof film Wet Hot American Summer, which inspired two Netflix spinoff TV shows over a decade later. He's also inspired much hilarity on Burning Love, Wainy Days, Bob's Burgers and tons of other stuff.
Without a doubt, Joe Lo Truglio is bringing decades of comedy acting to the table for Brooklyn Nine-Nine, and arguably his most impressive achievement is consistently humanizing the character of Charles Boyle, who could easily fall into lazy caricature territory in a lower-quality comedian's hands. Instead, Truglio brings a perfect balance to every awkwardly longing look at his BFF Jake, to every misguided attempt at romance, to every questionable comment made about food preparation or his libido. While he'll have a legitimate plot arc every so often, Charles is (Brooklyn) 99% a comedic foil, and considering Truglio doesn't know how to fail at comedy, he's as perfect as anyone could be in the role.
1. Andy Samberg (Detective Jake Peralta)
The battle for the top spot in this list could have been won by Joe Lo Truglio. But then I watched a few mash-ups of Jake Peralta's best Brooklyn Nine-Nine lines, and immediately started etching Andy Samberg's name into the trophy. (Not the nameplate, but the trophy itself.) To me, Samberg's performances on B99 are a perfectly filtered version of everything the comedic actor has nailed in his career. His work on SNL and with The Lonely Island perfectly set him up as a believable lead whose puppy-dog eyes amass unearned sympathy despite his constantly misplaced bravado. Like a cucumber, he's pretty cool cool cool, no doubt, no doubt.
It turns out Jake Peralta and Andy Samberg do have some qualities in common, which helps the character come across as another facet of the actor's personality, as opposed to just a cartoonish goof who wouldn't have any right serving as an NYPD detective. That said, no one in this cast is as much of a cartoonish goof as Samberg, as evidenced in films such as Hot Rod and Pop Star: Never Stop Stopping, or in the masterful Lonely Island special The Unauthorized Bash Brothers Experience. He's the cream of Brooklyn Nine-Nine's crop (meant with all the gross sexual connotations), and until Jake retires, Samberg will likely remain the funniest cast member in this A+ ensemble.
2019 Fall TV Premiere Schedule: Dates For New And Returning Shows
Who do you guys think the funniest Brooklyn Nine-Nine cast member is? Let us know in the poll below while waiting for Season 7 to arrive on NBC, which will likely happen in the midseason months when 2020 kicks off.
This poll is no longer available.
Your Daily Blend of Entertainment News
Assistant Managing Editor
Nick is a Cajun Country native, and is often asked why he doesn't sound like that's the case. His love for his wife and daughters is almost equaled by his love of gasp-for-breath laughter and gasp-for-breath horror. A lifetime spent in the vicinity of a television screen led to his current dream job, as well as his knowledge of too many TV themes and ad jingles.