Andy Samberg Talks Brooklyn Nine-Nine Obsession With Die Hard, Desperately Wanting Bruce Willis On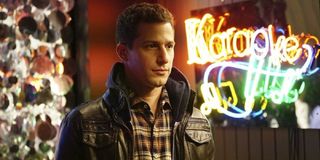 Andy Samberg's Jake Peralta has many loves in his life. He adores his wife Amy, catching perps, and referencing Die Hard whenever he can, which is a lot. Yes, Brooklyn Nine-Nine, which has already been renewed for Season 8, is completely obsessed with the classic film and isn't ashamed about it, either. Having had several famous guest stars appear on the show, Samberg wouldn't be opposed to adding more to the growing repertoire. To no one's surprise, he desperately wants Bruce Willis to guest star on Brooklyn Nine-Nine.
For Jake Peralta, Die Hard is the best cop movie of all time. In Season 6, Melissa Fumero's Amy even role plays as Holly Gennero McClane because she knows that Jake's love for the film runs deep. There was also that one time Jake made everyone take a detour on their way to the airport so they could tour the Nakatomi Plaza from Die Hard. Recently, Andy Samberg was asked who his dream guest would be and his response was obvious. Here's what he said:
What a great episode that would be! I can only imagine how much of a fanboy Jake might become if he has a run-in with Bruce Willis, though it's possible he might be so starstruck that he'd lose the ability to speak in full sentences. This is Jake's hero we're talking about, after all and as much as he likes to pretend to keep a cool head, Brooklyn Nine-Nine fans know better.
Brooklyn Nine-Nine Season 7 is right around the corner and Andy Samberg dropped in for an appearance on The Tonight Show Starring Jimmy Fallon recently to promote the upcoming season. Jimmy Fallon made it a point to mention that Bruce Willis actually watches the talk show so Samberg's plea may not go unheard. The host even addresses the Die Hard actor through the camera, telling him to "trust Andy. Anything he does is great." It sounds like Fallon is rooting for Willis to guest star, too! You can watch the entire clip below.
Season 7 should be an interesting one for the comedy series, what with Season 6 having ended with Andre Braugher's Captain Holt being demoted to a patrol officer. According to Andy Samberg, the former captain is "having trouble adjusting." Thankfully, it won't be long until fans find out what's been going on with the characters at the Nine-Nine.
Brooklyn Nine-Nine Season 7 premieres on Thursday, February 6 at 8 p.m. ET on NBC with two back-to-back episodes. For more on what to watch, be sure to check out our 2020 midseason schedule for updated premiere dates and times.
Your Daily Blend of Entertainment News