Drive-By Shooting At Duck Dynasty Vet Willie Robertson's House Leads To Arrest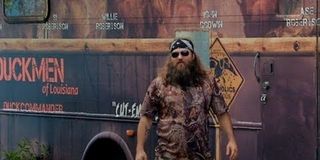 Duck Dynasty vet Willie Robertson alleged that he and his family were victims of a drive-by shooting that damaged his estate in West Monroe, Louisiana. The shooter reportedly fired off eight to ten shots on Friday, April 24, one of which went through one of the the windows of Robertson's home. Now, the alleged drive-by shooter has been arrested and charged by Louisiana authorities.
On Sunday, April 26, the Ouachita Parish Sheriff's Office arrested 38-year-old Daniel King, Jr. for allegedly firing at Willie Robertson's home. Per The Monroe News Star, King was charged with one count of aggravated assault by drive-by shooting and one count of criminal neglect of family. He was processed through Ouachita's Correctional Center and his bond was set at $150,000.
The shooting took place off the road of Willie Robertson's private estate, which was surrounded by fences and a gate. The Duck Dynasty star's son John Luke Robertson, his wife Mary Kate McEachern and their infant were all reportedly inside the bedroom when one of the bullets was fired through the window. However, no injuries were reported at the time. Other witnesses also stated they saw a truck passing through and heard gunshots being fired.
Willie Robertson said that he and his family were "pretty shook up" after the drive-by occurred and he was "100% certain" that the alleged shooter knew that he was firing at Robertson's home. Although an arrest was made, it's still unclear why Daniel King, Jr. allegedly singled out Willie Robertson's family home for a drive-by shooting.
The initial incident reportedly happened in the middle of the afternoon and Robertson's surveillance camera was able to record what happened. There were allegedly other people in the truck alongside Daniel King, Jr. However, there were no descriptions given for the truck's other occupants. The Louisiana police have not arrested anyone else in connection to the shooting and there are no pending charges at this time.
Willie Robertson appeared in eleven seasons of A&E's Duck Dynasty, a reality series that followed his family and their duck hunting gear business, called Duck Commander. The series ended in 2017 following a lawsuit filed against the production company's founders. The series was so popular for A&E that it spawned several spin-offs, including Jep & Jessica: Growing the Dynasty and Going Si-Ral. The former reality star went on to become an occasional Fox News contributor, while his daughter Sadie competed in Season 19 of ABC's Dancing with the Stars, coming in second place in the series' final competition.
Stay tuned to CinemaBlend for more updates. In the meantime, be sure to check out our schedule for all of TV's biggest season (and series) finales that are airing this spring and summer. For even more on what to watch, swing by our 2020 summer premiere schedule.
Your Daily Blend of Entertainment News
Your Daily Blend of Entertainment News
Thank you for signing up to CinemaBlend. You will receive a verification email shortly.
There was a problem. Please refresh the page and try again.