Frustrated Erin Andrews Defends Her Reaction To Dancing With The Stars 2019 Winners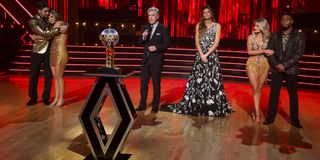 (Image credit: Photo courtesy of ABC)
Warning! The following post contains spoilers for the Season 28 finale of Dancing with the Stars.
Another season of Dancing with the Stars has come and gone. After another season of sparkly costumes, controversial contestants, and shocking eliminations, everyone walks away with their own opinions about who should have won. According to Erin Andrews' facial expression during the 2019, though, that person shouldn't have been The Bachelorette star Hannah Brown. Now, a seemingly frustrated Erin Andrews has defended her reaction on the show.
Here's what happened. This week, Dancing with the Stars crowned its Season 28 winners and, while it pleased some fans, co-host Erin Andrews looked displeased about the outcome at the time the episode aired. Due to this, fans called her out on Twitter for seeming unimpressed that Hannah Brown -- who had a big advantage -- and pro dance partner Alan Bersten took home the famous Mirrorball Trophy.
When one particular fan pointed out her "less than impressed" reaction to the season finale's outcome, Erin Andrews quickly took to Twitter to defend herself, pointing out the exact reason for why she didn't give a more positive reaction.
The Dancing with the Stars host made a valid point. The competition was tough and, since there can only be one winner, an overly happy reaction to Hannah Brown's win would have made the whole thing a bit awkward. Still, Erin Andrews' lack of reaction was much different than Tom Bergeron's, who quickly turned toward the winning couple. So, it's not hard to see why fans jumped to the conclusion that she wasn't thrilled with the final results.
In another response to a tweet that's now been deleted, Erin Andrews doubled down in her defense, claiming her neutral stance was in and of itself a reaction to angry fans.
It's possible Erin Andrews did want someone else to be crowned a winner, but whatever the actual case, her choice of response has gone viral. Dancing with the Stars is a competition show, so fans being upset that their favorite celebrity dancer not winning is a given. I imagine being upset that one of the hosts didn't react the way fans wanted is much different than the judges claiming disappointment with Season 28 overall.
The Season 28 finale of Dancing with the Stars might have turned out completely different if James Van Der Beek hadn't been eliminated in the semifinals. However, the show, like Erin Andrews' apparent reactions to Hannah Brown's win, always manages to surprise.
Now that Dancing with the Stars is over for the season, be sure to check out our complete guide to see what other TV shows are premiering through the end of the year.
Your Daily Blend of Entertainment News
Thank you for signing up to CinemaBlend. You will receive a verification email shortly.
There was a problem. Please refresh the page and try again.