Station 19 Offers Big Clues About Cancelled Grey's Anatomy Finale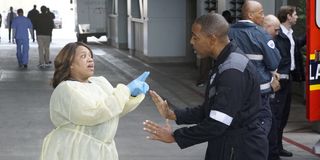 (Image credit: ABC)
Grey's Anatomy had to wrap Season 16 several episodes short of its intended finale, and all signs point toward something epic planned to close the season. That said, Grey's spinoff Station 19 did manage to finish filming its third season, and the frequent crossovers between the two shows mean that the Station 19 finale will offer some big clues about what was going to happen on the Grey's Anatomy finale.
The Station 19 Season 3 finale is ominously called "Louder Than A Bomb," and it will see members of the Station 19 crew working to evacuate a doctor from Grey's Anatomy's Pac-North hospital. In doing so, they'll find themselves in a life-threatening situation. The episode seemingly won't put the full Station 19 team in danger, as Andy will being going to her aunt for answers about her mom's death and Sullivan will undergo surgery.
Considering the "Louder Than A Bomb" title of the finale and the likelihood that this episode would have aired in its usual 8 p.m. ET time slot before Grey's Anatomy prior to Grey's ending early and the spinoff taking its 9 p.m. slot, Station 19 will probably begin a story that will end in a cliffhanger that won't be continued until Grey's Anatomy Season 17. The title also probably means fans can assume that the life-threatening situation will involve an explosion at Pac-North.
Since the doctors who previously worked at Pac-North made the move back to Grey Sloan, the big questions that arise are which of them will need to be evacuated and if the firefighters will be successful. TVLine reported sources stating that a major character was originally slated to die in an explosion in the Grey's Anatomy finale.
While a major Grey's Anatomy death hasn't been confirmed, the odds seem pretty good that somebody is going to die or be dying in the Station 19 finale leading into what should have been the Grey's finale. If only Alex could have been the one to die rather than be written out in a way that arguably ruined his character! He could have died in an explosion off-screen, right?
In all seriousness, fans will have to wait for "Louder Than A Bomb" for all the details, but the official episode description from ABC does yield some more clues in the form of guest stars. Grey's Anatomy's Ellen Pompeo (Meredith Grey), Caterina Scorsone (Amelia Shepherd), Kim Raver (Teddy Altman), and Stefania Spampinato (Carina DeLuca). Chandra Wilson (Bailey) and Jake Borelli (Schmitt) appear in official promo photos as well.
While Stefania Spampinato has been a frequent flyer on Station 19 since Carina started a relationship with Maya, Caterina Scorsone has popped up as Amelia for chats with Sullivan about his pain, and even Kim Raver has casually appeared as Teddy, Ellen Pompeo shows up less often on Station 19. Do these stars indicate that one of their characters will die? Or a character with connections to their characters?
Andrew DeLuca obviously has close ties to Meredith and Carina, while Amelia and Teddy are connected to Owen Hunt. I could see DeLuca or Owen being killed off, or maybe even Teddy, but I'm guessing Amelia is safe, and Bailey and Schmitt are fine in the promo pics. Still, if somebody from Grey's dies or is grievously injured on Station 19, we'll just have to wait to find out the unlucky character's fate. It could be pretty messed up.
The Season 3 finale of Station 19 airs on Thursday, May 14 at 9 p.m. ET on ABC. Both Station 19 and Grey's Anatomy have already been renewed for the 2020-2021 TV season, so the shows will have the opportunity to deal with the cliffhanger when they return.
Resident of One Chicago, Bachelor Nation, and Cleveland. Has opinions about crossovers, Star Wars, and superheroes. Will not time travel.
Your Daily Blend of Entertainment News
Thank you for signing up to CinemaBlend. You will receive a verification email shortly.
There was a problem. Please refresh the page and try again.