Grey's Anatomy Showrunner Explains Jo's Strange Reaction To Alex Abandoning Her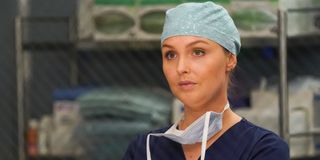 Grey's Anatomy bid farewell to Alex Karev in the wake of Justin Chambers' abrupt departure from the medical drama. After weeks of not hearing back from her husband, Camilla Luddington's Jo learned that Alex had rekindled his romance with ex-wife Izzie Stevens and was never coming back to Seattle. Jo was left to pick up the pieces of her life after that particular heartbreak and Grey's Anatomy showrunner Krista Vernoff recently explained Jo's rather strange reaction to Alex abandoning her.
Jo has been through a lot. She was a victim of domestic abuse at the hands of her first husband. In Season 15, she discovered that she was the product of rape from her birth mother, and subsequently had a mental breakdown. It wasn't long after that she went through another devastating blow when Alex announced that he was leaving her behind for his ex. What made everything worse was that he didn't even wait to tell her the news in person, and opted to write her a letter instead. Jo is nothing if not resilient and Krista Vernoff explained the reason for why she was able to bounce back so quickly. Here's what she told TVLine:
Jo did have to endure a lot of trauma, so it makes sense why the Grey's Anatomy showrunner didn't want her to live through any of that again. Krista Vernoff expanded on that, revealing that — due to Alex's prolonged absence ahead of his letter — Jo had some time to mourn their relationship before it was officially over.
Krista Vernoff put it this way:
Grey's Anatomy Season 16 ended up with a shortened season due to pandemic-related shutdowns, with filming completed on 21 of its 25-episode order. The show's season finale aired earlier this month and, though there were storylines left up in the air, the Season 16 finale still managed a few twists and turns.
Luckily, the ABC drama will be back for Season 17, though there's no word yet on when production will resume. For more on what to watch in the coming weeks, be sure to check out our list of all the big TV finales.
Your Daily Blend of Entertainment News
Your Daily Blend of Entertainment News
Thank you for signing up to CinemaBlend. You will receive a verification email shortly.
There was a problem. Please refresh the page and try again.