Why Zoey's Extraordinary Playlist Left The Love Triangle That Way, According To The Showrunner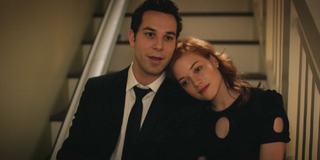 Warning! Major spoilers ahead for Zoey's Extraordinary Playlist Season 1 finale, called "Zoey's Extraordinary Dad."
Zoey's Extraordinary Playlist Season 1 ended on a somber note. Zoey spent a lot of time contending with the fact that she might lose her dad Mitch — who was diagnosed with Progressive Supranuclear Palsy (PSP) — and the season finale found her and her family finally having to say goodbye for good. However, there were some bright spots in the episode. Zoey, who's been stuck in the middle of a love triangle between best friend Max and colleague Simon, finally kissed Max, altering their relationship for good. But, Simon was still very much in the picture, too and showrunner Austin Winsberg revealed exactly why Zoey's Extraordinary Playlist left the love triangle open-ended.
The foundation for the love triangle on Zoey's Extraordinary Playlist was laid out rather well over Season 1. Zoey clearly had feelings for Simon, but they decided later on that neither of them were in a good emotional place to pursue a relationship. Then there was Max, who loved Zoey, but wasn't so clear on her feelings for him. Zoey made a rather direct decision when she finally kissed him in the Season 1 finale. The complicated part was that the kiss didn't resolve the love triangle so much as it complicated things even further for Zoey, who still liked Simon as well.
Austin Winsberg recently explained why the love triangle plot was left unresolved and how it would factor into a potential Season 2. Here's what he told TVLine:
Personally, it's a bit stressful to know that the love triangle could still go either way, since Zoey's Extraordinary Playlist hasn't yet been renewed for Season 2. That said, the Season 1 finale was so well done that, if there's a chance the musical series won't return, it would have ended in a satisfying way. However, Zoey's still got a long way to go and a lot of emotions to sort through about Max, Simon, and grieving her father's death. I hope the show scores a Season 2 so viewers can get the satisfaction of seeing whom Zoey ultimately chooses and where Austin Winsberg and his writing team proceed with the story.
Zoey's Extraordinary Playlist Season 1 may be over, but viewers can stream the show on Hulu and relive all of the magic. For more on what to watch, be sure to check out our 2020 summer TV premiere guide.
Your Daily Blend of Entertainment News