Will Zoey's Extraordinary Playlist Season 2 Happen? Here's What The Showrunner Says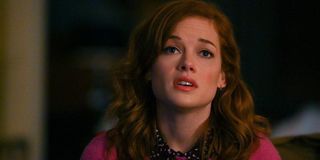 Zoey's Extraordinary Playlist is fast approaching its Season 1 finale. After premiering in January, the NBC series has won itself an audience. However, the recent Hollywood-wide shutdowns have left future renewal decisions up in the air for the musical dramedy and several other midseason shows. Zoey's Extraordinary Playlist showrunner Austin Winsberg recently weighed in regarding the likelihood of a renewal and there's some hope.
Jane Levy's Zoey began Season 1 with a more positive outlook on life. Sure, she was freaked out about suddenly having the ability to hear people sing their feelings to her, but she adjusted. However, her dad's health has been slowly deteriorating over the season, she has yet to choose between Max and Simon, and work has been incredibly stressful. The season's final episode will likely resolve a few storylines while leaving others open-ended for Season 2. Unfortunately, Zoey's Extraordinary Playlist hasn't been renewed yet, but Austin Winsberg is hopeful that it will be. Here's what he told TVLine:
If the showrunner is "cautiously optimistic" that Zoey's Extraordinary Playlist will be renewed, then so am I. That said, Austin Winsberg also admits that there's still a lot of uncertainty and that NBC execs still have a lot "to figure out" — like when production can pick back up — before they come to a final decision about bringing the show back for Season 2.
The musical dramedy has only just begun to work its magic and there's still plenty to mine from the storyline. Besides, Zoey is just starting to sort through all of her complicated feelings about her dad's potential death and the love triangle she's in and I'd personally be devastated if the series is cancelled before any of these plotlines are resolved.
Thankfully, Zoey's Extraordinary Playlist has maintained steady viewership, landing a 0.6 in demo and a little over 3 million viewers when factoring in the Live+7 ratings. That said, the series does come in last in the demo when compared to NBC's other dramas. However I'm hoping for the best because I think the musical series more than deserves a second season.
The Season 1 finale of Zoey's Extraordinary Playlist airs Sunday, May 3 at 9:00 p.m. ET on NBC. For more on what to watch, be sure to check out our 2020 summer premiere guide.
Your Daily Blend of Entertainment News
Thank you for signing up to CinemaBlend. You will receive a verification email shortly.
There was a problem. Please refresh the page and try again.