Alita: Battle Angel Director Robert Rodriguez Confirms Mandalorian Follow-Up In Cutest Way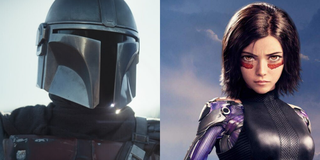 May The Fourth was filled with plenty of fun information for Star Wars fans, including the announcement of an upcoming feature film. However, there was also some major news on the TV front featuring one confirmation that will also appeal to a totally different fanbase. Alita: Battle Angel director Robert Rodriguez confirmed that he's directing The Mandalorian in Season 2, along with Peyton Reed, known for his work in the MCU. It's a pretty good day for franchise crossovers.
Both directors took to the Internet to share their connections to the upcoming season of The Mandalorian. However, Robert Rodriguez's post did so in the cutest way ever. Between that and the newfound connection between the Alita and Star Wars franchises, we're obviously sharing first.
The longtime director has had a storied career. No stranger to action projects, Robert Rodriguez has directed films ranging from Spy Kids to Sin City and, of course, last year's Alita: Battle Angel. So while we wait for potential news on the sequel front, we're happy to see he's keeping busy. And honestly, it's really no wonder that his next project will send him to the galaxy far, far, away. Star Wars Day was all online this year, due to obvious external circumstances, and so Rodriguez took to Twitter to announce the exciting news. He posed with none other than Baby Yoda, who is probably the most popular creature in every galaxy.
The post is adorable, wouldn't you say? Calling Baby Yoda the "biggest star" isn't a lie as far as I'm concerned. Of course, the Disney+ series and Alita: Battle Angel may not belong in the same universe, but now that Robert Rodriguez is the one helming The Mandalorian, it's pretty cool that fans of both properties now have a distinct connection to two separate, but great sci-fi/fantasy projects.
Speaking of a fun connection, Ant-Man director Peyton Reed also announced that he's directing an episode of The Mandalorian. Disney execs seem to like keeping things in the family, so Reed's transition from the Marvel Cinematic Universe to the world of Star Wars isn't that much of a stretch. Let's hope that the Mandalorian himself doesn't have to shrink a la Ant-Man to better fight off his adversaries in Season 2, but I have to admit that would be pretty wild to watch. You can check out Reed's Twitter announcement below. Sadly, Baby Yoda couldn't be bothered to be in the picture, probably too busy preparing his next meme.
It hasn't been confirmed whether Robert Rodriguez and Peyton Reed are simply directing one episode each or if they're signed on to direct at least two or more. It seems we might have to wait a bit longer to find out on that front, but it's pretty awesome news nonetheless. Thankfully, The Mandalorian Season 2 is still on track to be released as previously scheduled, unlike other Disney+ shows that are facing delays.
The Mandalorian Season 2 will be available to stream on Disney+ in October, though no specified date has been announced just yet. For more on what to watch in the meantime, be sure to check out our 2020 summer TV premiere schedule.
Your Daily Blend of Entertainment News
Your Daily Blend of Entertainment News
Thank you for signing up to CinemaBlend. You will receive a verification email shortly.
There was a problem. Please refresh the page and try again.