Westworld Showrunner Defends Series After People Saw Season 3 As A 'Reboot'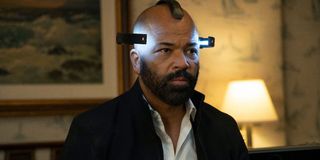 (Image credit: Photo courtesy of HBO)
Spoiler for Westworld Season 3 can be found throughout this article. The finale aired this weekend and if you didn't catch it, you may read more than you want to in this.
What happens when Westworld exits the parks? There had been scenes outside of the parks in previous seasons of the HBO drama, but at the end of Season 2, the show made a dramatic shift into the outside world. When Season 3 started airing, most of the series was set outside of the parks, with a few exceptions, prompting many to remark that Westworld felt like a new show during Season 3. However, if you ask show creator Jonathan Nolan, we should have seen it coming.
In fact the showrunner seems a little surprised that many people have called the latest season "a reboot." He said in a new interview the reactions to Season 3 have "amused" him, defending the series for what it is:
Westworld Season 3 wrapped its run last night with a dramatic end to the Dolores (at least the version that was wreaking havoc) and a scene featuring Bernard awakening covered in dust after learning he held the key Maeve was so desperately searching for all season. It set up for Season 4 that could go in a lot of directions and from what Jonathan Nolan told Deadline, that's exactly what Westworld has tried to do every single season.
I mean, I can see what he's saying and perhaps "reboot" is the wrong way to look about it, but Westworld Season 3 felt in some ways dramatically different from its two previous iterations, which I think may be what people are trying to get at. For one example, it introduced a lot of new players in people like Serac, Caleb, Ash and even briefly Liam and left behind a lot of the characters we had grown more familiar with and cared more about.
Oppositely, a lot of what Season 3 attempted was subverting our expectations, which tied Westworld's new season to its past iterations. We thought Dolores had implanted various host minds into other hosts; instead she cloned herself. Then, the whole Aaron Paul as Caleb subplot was clearly leading to the reveal that he'd killed his friend, although the way that panned out I thought was neatly done and different than what I expected to happen. In that way, Westworld was basically the same show.
Its setting and tone on the other hand really just felt almost completely different this go around, even given we had seen scenes outside of the parks previously, so maybe "reboot" isn't the right word, but perhaps "amused" isn't either. We could go back and forth about this all day, and perhaps we should be focusing on one super interesting thing Jonathan Nolan says here about the show sticking to the plan and continuing to be fearless moving forward.
We will 100% be getting more Westworld eventually and given the way Season 3 ended, I'd expect a reset once more. Back in April the subscription cabler renewed the high-profile science fiction TV series for Season 4. In the past those close to the show have noted they had five or six years of this series already mapped out, so it's not as if this show has chosen Season 3's direction at random. In fact, James Marsden previously said:
(Although I will point out Teddy wasn't a part of the current season.) For now, we'll just have to wait to see more, as it can be sometime between seasons for this show.
Your Daily Blend of Entertainment News
Reality TV fan with a pinch of Disney fairy dust thrown in. Theme park junkie. If you've created a rom-com I've probably watched it.
Your Daily Blend of Entertainment News
Thank you for signing up to CinemaBlend. You will receive a verification email shortly.
There was a problem. Please refresh the page and try again.