Zoey's Extraordinary Playlist's Jane Levy Has Thoughts About 'Team Max Vs. Team Simon' Debate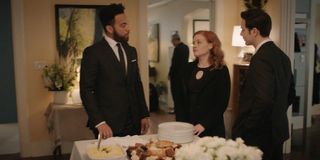 Spoilers ahead for the Season 1 finale of Zoey's Extraordinary Playlist.
Zoey Clarke faced a lot of hurdles over the course of Zoey's Extraordinary Playlist's Season 1. She had to contend with her fears of losing her dad, work was often a hot mess that Zoey had to manage, and her relationship status was complicated by the love of two men, Simon and Max. Season 1 ended without having fullyresolved the love triangle, but series star Jane Levy recently shared her thoughts about the Team Max vs. Team Simon debate.
In the Season 1 finale, Zoey proved she still really liked Simon, who sang Nick Jonas' "Jealous" when he saw she was hanging out with Max. However, after offering Max his job back, Simon admitted that he didn't want to return to the same thing and liked being manager. Drawn in by Max's newfound confidence, Zoey kissed him. But how does Jane Levy really feel about Team Max vs. Team Simon? The actress might very well have a preference for Zoey might end up with in a potential Season 2. Here's what she told Variety:
Thank you, Jane Levy, for validating that John Clarence Stewart's Simon "is so hot," because she's definitely not wrong about that! That said, it sure sounds like the NBC star already knows who Zoey's endgame match will be, and that Max is the better fit for Zoey in the "long term."
That's a fair assessment by all means, though the verdict is obviously still out on who she will actually end up with for good — or, at the very least, officially date for a while — in a potential Season 2. As for which man Zoey would want to be stuck with in quarantine, Levy further teased that "We all know who the right one is…" The suspense!
Zoey's Extraordinary Playlist showrunner Austin Winsberg explained that the love triangle was left "open-ended" in the Season 1 finale because he wanted to "continue to create different options" for Zoey heading into an eventual second season. Unfortunately, NBC has not yet renewed the musical series for a sophomore season, but stay tuned to CinemaBlend for updates.
Though the new episodes have run their course, Zoey's Extraordinary Playlist Season 1 is currently available to stream on Hulu. For more on what to watch, be sure to check out our 2020 summer TV premiere guide.
Your Daily Blend of Entertainment News
Your Daily Blend of Entertainment News
Thank you for signing up to CinemaBlend. You will receive a verification email shortly.
There was a problem. Please refresh the page and try again.