Gilmore Girls' Lauren Graham Has A New Network TV Show On The Way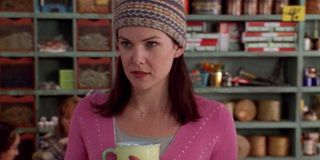 Gilmore Girls actress Lauren Graham has a new show lined up and ready to go. The Golden Globe nominee, who also starred in the acclaimed NBC drama Parenthood, took some time away from television last season. Now she's back and ready to give her all to what could be a new and exciting series called Zoey's Extraordinary Playlist.
Lauren Graham has been cast in the role of Joan, Zoey's manager and, according to TVLine, the actress has signed a "one-year deal" with the series. NBC ordered the pilot back in January before ordering the show to series a few months later in May. Interestingly, Graham is coming in as a recast. She's replacing Carmen Cusack, who played Joan in the pilot episode prior to her departure from the series.
Graham expressed her excitement for her new role on Twitter, noting,
Zoey's Extraordinary Playlist follows the story of Zoey (Jane Levy), who suddenly finds herself able to hear other people's thoughts, but to the tune of varying songs. Of course, she doesn't want these powers at the beginning, but quickly realizes they're not so bad.
As Lauren Graham mentioned in her Twitter post, the show is a musical and approaches its storyline from a unique angle. After all, there have been so many characters who have found themselves being cursed with reading people's minds and the show seems to give this trope a new and fascinating spin on a familiar plot.
In addition to working alongside Jane Levy, Lauren Graham joins a large cast that includes Skylar Astin, John Clarence Stewart, Andrew Leeds, Alex Newell, Mary Steenburgen, and Peter Gallagher, among a few others. The multi-faceted actress has made television her career, with shows like Gilmore Girls and Parenthood lasting for multiple seasons and drawing in a passionate fanbase who, to this day, still discuss the popular shows.
Earlier this year, famed producer Ryan Murphy, who has given us series such as Glee, Pose and American Horror Story, brought up the possibility of Lauren Graham joining his 9-1-1 series. As it turns out, the actress wound up landing her new gig on Zoey's Extraordinary Playlist instead, but that doesn't mean we won't ever see the two collaborate.
Lauren Graham has remained fairly busy, booking roles on shows like Curb Your Enthusiasm. In 2016, she reprised her role as one of the most famous TV moms, Lorelai Gilmore, in the Gilmore Girls revival on Netflix. She also voiced the character of Oxana Hauntley in the animated series Vampirina.
Zoey's Extraordinary Playlist is set for a midseason premiere, likely in January 2020. For all of your TV needs, be sure to check our full 2019-2020 schedule of shows.
Your Daily Blend of Entertainment News