Becky Lynch: 6 Cool Things To Know About WWE's The Man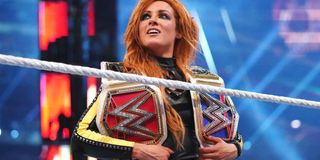 Becky Lynch has become one of the most widely known names in all of the WWE, and mainstream pop culture, in the past few years, but the Irish-born wrestler didn't become The Man overnight. No, much like how Rocky Miavia helped usher in a new era of professional wrestling during the Attitude Era after he transformed himself to The Rock, Lynch's rise to fame has come with its own trials and tribulations.
From the days of a young wrestler struggling with personal demons in her teenage days to becoming the first woman to main event WrestleMania in 2019, Becky Lynch has proven time and time again that she's not only the greatest female wrestler in WWE, she's The Man, and she'll take on whatever life throws at her.
Here are six cool things to know about The Man, Becky Lynch.
After Suffering A Severe In-Ring Injury, Becky Lynch Became A Flight Attendant
Becky Lynch's wrestling career didn't start with her 2013 WWE debut. When Lynch (real name Rebecca Quin) was 15 years old, she started wrestling in her native Ireland before touring Europe and North America with a number of different independent promotions. That all came to a screeching halt in September 2006 when Lynch suffered a severe head injury that took her out of the squared circle for six years.
During that time, The Man worked an assortment of jobs, which, according to The 42, included working as a flight attendant for Aer Lingus, where the future Raw Women's Champion would fly the friendly skies for two-and-a-half years. With an itch to get back out in the public eye and start performing in front of crowds once again, Lynch left the airline behind and went to school... clown school, specifically.
Lynch Went To Clown School And Even Defended A Thesis On The Art Of The Clown
The path back to the public spotlight took Becky Lynch down some strange avenues, including a stint in clown college, yes, clown college, where the 2019 Royal Rumble winner worked on fine details of performance art that would one day, strangely enough, help her wrestling career.
During a 2018 appearance on the Not Sam Podcast (via Fightful), The Man explained to a shocked Sam Roberts that she attended clown school for three years working on playing make believe until she realized that she didn't really need a degree to prove that she could act or perform in front of a crowd, stating:
Lynch Credits Wrestling With Getting Her To Quit Drinking And Get Her Life In Order
Unlike most wrestlers who have had substance abuse issues, Becky Lynch learned that she had a problem with the bottle very early on in her career and if it weren't for honing her craft, she doesn't know how her life would have turned out. During a 2005 interview with Lady Sports, the 18-year-old wrestler from Ireland revealed the impact that wrestling had on her life up to that point, stating:
"The Man" Suffered A Broken Nose And Concussion, Becoming A Legend In The Process
Becky Lynch pretty much became a star as soon as she and the rest of the "Four Horsewomen" (Charlotte Flair, Sasha Banks, and Bailey) debuted on WWE in 2015, but The Man became a legend in November 2018 when she and the rest of the SmackDown women's roster invaded Monday Night Raw ahead of the annual Survivor Series pay-per-view. Anyone familiar with the iconic invasion probably remembers just how electric the incident became after Lynch suffered an arrant hit to the face, breaking her nose and giving her a serious concussion in the process.
But The Man came around and couldn't be stopped that night, and she continued to fight the Ronda Rousey and the rest of the Raw women's roster, bloody face and all, creating one of the most iconic and newsworthy images in modern wrestling history. Much like Daniel Bryan's Yes! Movement in the lead-up to WrestleMania 30, Becky Lynch had the fans eating out of the palm of her hand, and she was on her way to becoming the most popular wrestler in the company.
Becky Lynch Was In The First Women's Match To Main Event WrestleMania
In the first 34 years of WrestleMania, no woman had ever wrestled in the main event of "The Showcase Of The Immortals," but that all changed when Becky Lynch took on Raw Women's Champion Ronda Rousey and SmackDown Women's Champion Charlotte Flair in a winner-take-all triple threat match to headline WrestleMania 35 in 2019.
Leading up to historic match in front of a reported 82,265 fans at MetLife Stadium in East Rutherford, New Jersey, The Man had been on a tear. She had entered and won the 2019 Women's Royal Rumble match and was pretty much all anyone was talking about leading up to the showcase event that April. And while Charlotte Flair and Ronda Rousey had just as much talent, star power, and reason to be there, April 7, 2019, was The Man's night.
Becky Lynch Is Following In The Rock And John Cena's Footsteps
Just like The Rock and John Cena before her, Becky Lynch is starting to transition to more serious acting roles. She recently appeared on the Season 5 premiere of the Showtime series Billions and is even reportedly appearing in an upcoming Marvel movie, but The Man is still up for taking advice from those who have come before her.
During an interview with TMZ Sports, The Man revealed that The Rock and John Cena have been helping to guide her as she starts to break out into the mainstream, saying:
Will this mean that Becky Lynch will be the next WWE Superstar to break out of the squared circle and take over the silver screen? It's hard to think of someone more deserving than The Man.
Becky Lynch has come a long way from the independent wrestling scene of her native Ireland, but The Man has never lost touch with herself or her undying sense of determination along the way. If you found any of this interesting, check out this piece on Marvel characters we think Lynch would be perfect to play if she continues acting and other great pieces on CinemaBlend.
Your Daily Blend of Entertainment News
Philip grew up in Louisiana (not New Orleans) before moving to St. Louis after graduating from Louisiana State University-Shreveport. When he's not writing about movies or television, Philip can be found being chased by his three kids, telling his dogs to stop yelling at the mailman, or yelling about professional wrestling to his wife. If the stars properly align, he will talk about For Love Of The Game being the best baseball movie of all time.
Your Daily Blend of Entertainment News
Thank you for signing up to CinemaBlend. You will receive a verification email shortly.
There was a problem. Please refresh the page and try again.