The Last Dance's Screaming Indiana Pacers Fan Has Defended Her Outburst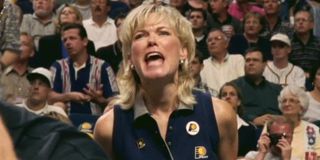 ESPN's Chicago Bulls-centric docuseries, The Last Dance, finally came to an explosive and satisfying conclusion last night. The show finished out its run with two episodes that featured the Bulls' battles with two of their greatest rivals. One of those teams was the Indiana Pacers and, if you saw the doc, you know Market Square Arena (the team's former home) wasn't an easy place to play due to the passionate fans. One fan, a woman who was seen screaming at the Chicago bench, was particularly "excited." Now, she's been identified and is discussing her outburst during the playoff series.
Kathy Martin Harrison was one of the thousands of fans who cheered on the Indiana Pacers and booed the Chicago Bulls during the 1998 NBA Eastern Conference Finals. While the doc showed plenty of screaming fans in the crowd, Harrison was the one who really caught viewers' attention.
Although she's far from a Chicago Bulls fan, Kathy Martin Harrison, a local business owner, explained that she actually had a lot of respect for Michael Jordan. She says the legendary athlete could only shake his head when looking at. However, it would seem she did have beef with another player on the Bulls' roster:
Harrison was honest when she reflected on the 1998 NBA playoffs on The Dan Dakich Show. Her actions during the game definitely came off as excessive, but it's nice to hear she still had respect for Michael Jordan. And if we're being honest, it's not surprising to hear that she got into with Dennis Rodman. Harrison's "enthusiastic" energy and Rodman's devil-may-care attitude were bound to clash at some point.
Since being featured in The Last Dance, Kathy Martin Harrison has found quite a bit of internet stardom as a viral meme. This has also led some to refer to her as a Karen:
Even though Harrison was overeager while cheering on her home team, her attitude is a firm representation of the tense vibe that surrounded the games between the Bulls and the Pacers. Fans in general can also be extremely vocal when it comes to certain things. For instance, many Jordan fans mistook Isaiah Thomas for his hall of fame namesake after an episode of The Last Dance, and they didn't hold back on social media. On a more positive note, Los Angeles Lakers and sports fans alike came together to honor the late Kobe Bryant, who was also featured in the doc.
Regardless of how you feel about Kathy Martin Harrison's behavior at the game, we can all agree that she has certainly carved out a place for herself in sports history.
Those who are already missing the The Last Dance can check out the hour-long After the Dance With Stephen A. Smith: A SportsCenter Special, which will air on Tuesday, May 19 at 8 p.m. ET on ABC. The docuseries itself will also be available to stream on Netflix this summer.
Covering superheroes, sci-fi, comedy, and almost anything else in film and TV. I eat more pizza than the Teenage Mutant Ninja Turtles.
Your Daily Blend of Entertainment News
Thank you for signing up to CinemaBlend. You will receive a verification email shortly.
There was a problem. Please refresh the page and try again.