When The Flash Will Finish Mirror Mistress As The Big Bad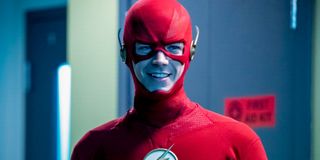 The Flash Season 6 got a premature ending due to the Hollywood-wide shutdowns in March, wrapping up with 19 out of its original 22-episode order. The Season 6 finale ended on a cliffhanger that saw Candice Patton's Iris still stuck in the mirror and Eva McCulloch carrying out her mission against her husband successfully. Knowing that Eva's arc was far from over, The Flash showrunner Eric Wallace has revealed when the series will finish the arc of Mirror Mistress as the big bad.
The Flash was renewed for Season 7, but fans won't get to see the next season until January 2021. However, before heading into the next storyline, the superhero series has to wrap up the plot from Season 6 first. Viewers shouldn't worry, though, because Eric Wallace revealed that he and the writing team still plan to put a bow on Eva's arc and Iris' time inside the mirrorverse. Only now the end of the Season 6 arcs will come at the beginning of Season 7. Here's what Wallace said about how it'll impact next season:
Based on what Eric Wallace told EW, it sounds like there will be no time jumps whatsoever in Season 7, which makes sense considering the abrupt way Season 6 ended. Basically, summer hiatus will be nonexistent in-narrative, and that's fine. Wallace sounds confident that The Flash Season 7 will be even "stronger," and I'm looking forward to seeing how the story wraps up for all involved.
What's more, Eric Wallace hinted that the Season 7 villain will be a "he," and it seems like this big bad will connect back to Barry and Iris. It's not much of a spoiler, and it's hard to speculate what that might mean for the beloved couple moving forward, but I'm positive they'll get through whatever comes their way together.
And it would seem the two might still have quite a bit more to go through. The Flash's Grant Gustin revealed that contract negotiations had begun for a potential Season 8 and 9 prior to the shutdown, though he was unclear on when they would pick back up again.
In the meantime, fans can stream The Flash Season 6 on Netflix. For more on what to watch, be sure to check out our 2020 summer TV premiere guide.
Your Daily Blend of Entertainment News