The Flash's 10 Most Romantic WestAllen Moments So Far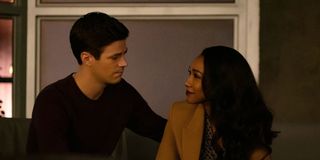 The Flash Season 6 ended on a major cliffhanger that saw Eva enact the first part of her plan, while Candice Patton's Iris remained stuck inside the mirror dimension and her neural dissonance took a turn for the worse. The season got the short end of the stick, leaving off with only 19 of the 22-episode order due to filming shutting down in March. With the series not returning until January 2021, viewers will have to wait even longer before Iris escapes from the mirror world and she and Grant Gustin's Barry are finally reunited.
Though they've been separated for a lot of the season, The Flash recently reiterated how integral Barry and Iris' relationship — collectively known as 'WestAllen' by fans — is to the show. Their relationship has grounded The Flash over the last six seasons, keeping the heart of the show intact by growing and developing their story. Besides having to fight metahumans on the daily, the couple has had several first kisses, two proposals, at least three weddings, and have gotten through erased timelines, parallel earths, and meeting their daughter from the future. Barry and Iris are truly the elite of superhero couples.
Now, there have been a number of fantastic and memorable romantic scenes between them over the years, so I've put the best of them together for you. That said, I tried to keep it to one or two per season, so as to now revisit all of the series. And so, here are the top ten most romantic WestAllen moments from The Flash so far.
Barry and Iris Vow to Return to Each Other in Season 6's "Liberation"
The shortened Season 6 saw Iris kidnapped by Eva McCulloch, who pulled her into the Mirrorverse and dispatched a copy of the intrepid reporter to roam free in the real world. Barry picked up on the change early on, but was persuaded enough by Mirror Iris to let his suspicion go. Things came to a head in "Liberation" after Barry finally discovered that Mirror Iris was not actually his wife at all.
He spent the whole episode trying to get to the truth while Iris fought Eva on the other side of the mirror. The episode ended with a gut-wrenching and heartbreaking scene that saw Barry and Iris speaking to each other from across dimensions. Although they couldn't hear each other, their deep love and devotion was perfectly encapsulated in the scene, which saw them vow that they would do whatever it takes to be reunited.
Barry and Iris Dance Together in Season 5's "All Doll'd Up"
Iris was having a rough time of it back in Season 5. The arrival of her and Barry's daughter, Jessica Parker Kennedy's Nora West-Allen, from the future brought with it a lot of tension for the mother-daughter pair. Following a big fight between them, Barry helped Iris work a case that led them to attend a gala to investigate. Dressed to the nines and oozing power couple energy, Barry insisted that they shouldn't leave the gala before he got in a dance with Iris.
As soon as the couple began to dance to Yann Tiersen's beautiful "Penn ar Roc'h," the world quickly faded away around them. So much so that they didn't even notice Ragdoll — the bone-bending metahuman — in the corner. Paired with slow motion effects and soft, loving gazes, it was the WestAllen slow dance for the ages. The scene truly embodied the feeling that they were the only two people in the world and the actors sold the hell out of it.
WestAllen Reunites in Season 4's "The Flash Reborn"
In retrospect, Season 4 of the Flash had quite a few romantic moments between Barry and Iris. One of the moments that stands out the most happens in the Season 4 premiere. After returning from the speed force and not remembering who he was, Iris and the rest of the team had to make due and contend with a new villain of the week, a robotic samurai.
When the big bad threatens to destroy the city unless they get him The Flash, Iris risks her life to get kidnapped, putting her faith in her husband to snap out of his speed force-induced haze to save her. Iris' faith isn't misplaced, because Barry does break free, returning to himself just in time to rescue Iris. "You came back to me," she says. "Always," is his response before they embrace and kiss in the sun-kissed field.
Barry Calls Iris His Lightning Rod in Season 4's "Enter Flashtime"
When a bomb goes off in Central City, Barry has seconds to stop it and utilizes the help of various speedsters to assist him from inside the speed force. However, nothing works and the longer Barry spends inside Flashtime — which is what happens when time slows down — the more tired he becomes.
Feeling defeated, he goes to Iris to spend his final moments with her. They exchange heartfelt words, and there's a profound sense of need that powers through the scene as Barry calls Iris his "lightning rod" — which is a grounding force for a speedster. All throughout The Flash, the series has showcased Iris as being intrinsically connected to Barry's powers. "Enter Flashtime" takes that concept and solidifies it.
Barry Gifts Iris a Loft in Season 3's "The Present"
The first half of season 3 was especially charming because Barry and Iris had just started dating and couldn't get enough of each other. In the midseason finale, Barry gets thrown into the future where he sees Iris being stabbed by the villain known as Savitar. Barry is shaken, but doesn't immediately reveal what he saw.
At the end of "The Present," Barry sweetly surprises Iris with a loft to mark their first Christmas together as a couple, brandishing a key to give her after declaring that they're "home." The moment isn't special just because they romantically exchange "I love yous" before passionately making out. The scene also signifies that home for Barry and Iris isn't just a physical space, but that they are each other's home. It's a concept that runs throughout the show and is highlighted here.
Barry Sings "Runnin' Home to You" to Iris and Proposes in "Duet"
Barry and Iris' wedding didn't exactly go over as planned. Between their nuptials getting interrupted by Earth-X Nazis and then again by Arrow's Oliver and Felicity, the only truly romantic moment leading up to their big day was the singing proposal in Season 3's musical crossover episode with Supergirl.
After Barry got in trouble for proposing to Iris for the wrong reasons, he made it up by preparing a song to sing to her. The song is a tribute to the theme of Iris being Barry's true north and a promise that he'll always return to her no matter what. The scene is intimately beautiful and deeply emotional, highlighting their closeness and bond with an original song penned by La La Land lyricists Benj Pasek and Justin Paul. Perfection.
Iris Confesses Her Love for Barry in Season 2's "Rupture"
In the aftermath of Zoom taking Barry's powers, Iris couldn't let him try to get them back without telling him how she felt. And so, Iris confessed that she wanted to move forward with Barry if he was still willing to give their romantic relationship a chance. Iris told Barry that he'd always have someone to come home to: her.
He looked utterly surprised, but pleased over her unexpected confession. It was a lovely, vulnerable moment for Iris, especially, as it gave voice to her innermost feelings. The scene was a huge step forward in their romantic relationship and turned the tables so that Iris' confession mirrored Barry's admission from Season 1 quite well.
Barry and Iris Visit His Mom's Grave in Season 2's "The Runaway Dinosaur"
The description isn't as somber as it sounds, I promise. Following Barry's return from the speed force — he seems to be in there a lot, doesn't he? — the scarlet speedster takes Iris to visit his mother's grave. It's significant because it's the first time he's gone since her death and thought to bring his best friend/future wife along with him.
Keep in mind that this is after Iris has formally confessed her feelings to him (for a second time). Barry, confronted with the fact that, though his mom's gone, Iris has always been there for him through thick and thin. And so, with his hand in hers he tells her that she's "everything" to him and that the "sound of your voice will always bring me home." Not sure about you, but that line, paired with the closeness they shared while standing under an umbrella, is top tier romance to me.
Barry Confesses His Feelings to Iris in Season 1's "The Man in the Yellow Suit"
It's really rare for a lead character to confess his feelings to the woman he loves in Season 1, but that's Barry Allen for you. After several episodes spent pining after Iris, a visit with his dad Henry gives him the courage to finally reveal his feelings to her.
Though their relationship is slightly complicated by Iris dating someone else at the time, Barry goes for it and tells Iris that he loves her and has always loved her. He's always wanted to tell her, too, but the moment never seemed right and he was always afraid of losing her so he kept it in. Iris is speechless, choked up with emotion she likely couldn't begin to express. This moment right here is the stepping stone in their romantic journey.
Barry and Iris Share Their First Kiss in Season 1's "Out of Time"
Following Barry's love confession, things got a bit rocky between him and Iris. She was still dating Eddie, Barry had started dating Linda, and… well, let's just say that the best friends were very aware of the other, more so than usual. Following an awkward double date that made both Linda and Eddie side-eye the pair, the villain of the week kidnaps Joe and Iris rushes to Barry for help.
He promises her that they'll find him. But, when they get to the waterfront, a tsunami threatens to overtake the city. Iris tells Barry that she won't leave him behind and goes on to admit that she hasn't been able to stop thinking about him romantically. Barry lights up like a kid on Christmas day in that moment and they kiss, complete with a 360-degree tracking shot for dramatic effect. It was glorious. Of course, Barry accidentally turned back time after that, but now that The Flash is in Season 6, we know that his relationship with Iris worked out for the best.
The Flash wrapped Season 6 and won't be back with Season 7 until January 2021. Until then, you can rewatch all of these fantastic WestAllen moments and more by streaming The CW series on Netflix. For more on what to watch in the coming months, be sure to check out our summer TV premiere guide.
Your Daily Blend of Entertainment News