Even Grant Gustin Doesn't Know If The Flash Will Return Beyond Season 7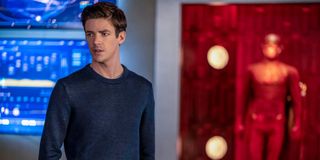 The Flash has been going relatively strong since it debuted back in 2014. After six seasons, the series remains one of the most popular of the Arrowverse shows, which currently also includes Supergirl, Batwoman, Legends of Tomorrow, and now Black Lightning thanks to the "Crisis" crossover. The CW renewed the series for a seventh season in January, but will The Flash go for an eighth, ninth, or even a tenth season like Smallville? It's possible, but even series star Grant Gustin doesn't know if the superhero show will return beyond Season 7 right now.
After a month-long hiatus, The Flash returned with new episodes. The series will finish three episodes short in Season 6, as the last three weren't completed due to the production shutdowns in March. However, viewers didn't panic too much because the show was due to return for Season 7. Ideally, any storylines that remained unfinished would be wrapped up next season. That said, the future of the show beyond that remains unclear. Speaking with Michael Rosenbaum on his Inside of You podcast, Grant Gustin confirmed that his current contract for The Flash ends with Season 7 and that he doesn't know for certain what's in store after that, at least for now. Here's what Gustin had to say:
The fact that contract negotiations had already begun prior to the pandemic is a good thing. It means there's some possible interest for Grant Gustin to play the titular character for at least two more seasons beyond Season 7. Should The Flash actually get to Season 9, it will become the longest-running Arrowverse show. However, it's important to note that nothing is confirmed yet as Gustin is unclear when those contract negotiation talks will resume.
Of course, there's also a downside to being locked into a long-term contract. Grant Gustin continued, saying that one of the cons to being on The Flash for so long is that he's missed out on a few other roles over the years. In his words:
Though losing out on other film and theater opportunities is definitely "frustrating," Grant Gustin says that he does "want to do more" of The Flash and that he's "glad" that he was locked into his original seven-season contract. For now, viewers can rejoice in the fact that the series will return for Season 7 at least.
Stay tuned to CinemaBlend for updates. New episodes of The Flash Season 6 air Tuesdays at 8:00 p.m. ET on The CW. For more on what to watch in the next couple of months, be sure to check out our 2020 summer premiere guide.
Your Daily Blend of Entertainment News
Your Daily Blend of Entertainment News
Thank you for signing up to CinemaBlend. You will receive a verification email shortly.
There was a problem. Please refresh the page and try again.