Why The Flash Showrunner Is 'Relieved' By The Production Shutdown On Season 6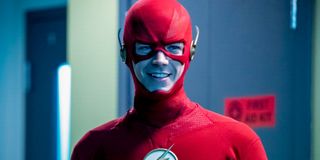 Minor spoilers ahead for The Flash Season 6 episode "Liberation."
The Flash, like hundreds of other TV shows, had to shut down production in March. The cast and crew had filmed several scenes for Season 6 Episode 20, but weren't able to wrap production on the episode for it to make it to air. That left Episode 19, called "Success is Assured," to stand in as the season's unintended finale. It's disappointing, as the high-stakes tension was just ramping up, but The Flash showrunner Eric Wallace recently explained why he was "relieved" by the production shutdown on Season 6.
The Flash was firing on all cylinders in this week's episode, called "Liberation." Not only did Barry finally figure out that Mirror Iris wasn't his real wife, but Eva was finally able to leave the mirror world behind. She would now be able to exact revenge on husband Carver without restraint. With only a few episodes left of the season, there was still a lot of ground left to cover since the real Iris was still stuck beyond the glass.
That said, Eric Wallace pointed out recently that "Success is Assured" was always planned to be the "biggest episode of the season" before the actual Season 6 finale. Now that it will serve as the unintended season ender, here's what Wallace told ComicBook.com about why that's a good thing, given the circumstances:
Well, if it's going to end on a cliffhanger without fully wrapping up the Black Hole storyline, then I'll just be stress-biting my nails and waiting to see what happens when the episode ultimately airs in a couple of weeks. Between the return of two villains, Iris still being trapped, and Barry trying to get his powers back, the superhero show still has a ways to go. Hopefully, The Flash can wrap up all its Season 6 storylines next season. Either way, the summer hiatus will feel a lot longer, that's for sure.
New episodes of The Flash air Tuesday nights at 8:00 p.m. ET on The CW. For more on what to watch in the coming months, be sure to check out our 2020 summer premiere guide.
Your Daily Blend of Entertainment News