Supernatural: 13 Actors You Forgot Were On The CW Series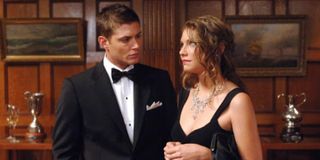 After 15 seasons, Supernatural will soon come to a close. With that much time on air (dating back to when The CW was still The WB), Sam (Jared Padalecki) and Dean Winchester (Jensen Ackles) have many adventures to look back on and, with that, many familiar faces who may not have been so familiar when they made their appearance on the series.
Perhaps you remember the time 1980s music icon Rick Springfield played a rock star possessed by Lucifer himself, or The Exorcist star Linda Blair's spot as as a skeptical police detective, or even when Paris Hilton dabbled in self-mockery as a demon-possessed version of herself. However, do you remember seeing Stranger Things star Finn Wolfhard on Supernatural, or maybe Emmy-winner Sterling K. Brown?
These are just two celebrities who would eventually take Hollywood by storm, but not before landing a gig on the extremely popular fantasy adventure series. There are 11 others we had in mind to mention.
Alden Ehrenreich (Ben Collins)
Playing a younger version of Harrison Ford's iconic space pilot in the 2018 prequel Solo: A Star Wars Story made Alden Ehrenreich a household name. More than a decade earlier, the then 15-year-old actor made his screen debut on the second ever episode of Supernatural, called "Wendigo," as Ben Collins, a young man looking for his missing older brother in a Colorado forest with his older sister, Haley (Gina Holden). Sam and Dean, while posing as park rangers, agree to help them on a hunch that the sibling may have been killed by the titular mythical creature.
Sterling K. Brown (Gordon Walker)
From his Emmy and Golden Globe-winning role on the hit NBC drama This Is Us to his brief, yet memorable, appearance Eric Killmonger's late, Wakandan born father in Black Panther, Sterling K. Brown has become one of the most versatile, sought-after actors today following a career spanning nearly two decades. One of his earlier roles was a guest spot in Season 2 of Supernatural as a Gordon Walker, a vampire hunter who has it out for Sam Winchester. Brown would reprise the character for a three-episode arc the following season, that saw him become the very creature he despised and ended with Sam beheading him.
Lauren Cohan (Bela Talbot)
In one attempt to find the Winchester Brothers, Gordon Walker interrogated their on-and-off ally, con artist Abbie Talbot (better known as "Bela"), played by Lauren Cohan. The British-American actress would eventually become a master at battling monstrous creatures after joining the cast of The Walking Dead in its second season, but her first recurring role on Season 3 of Supernatural saw her employed by monstrous creatures years after making a deal with a demon in her teens. Despite occasionally turning good to help Sam and Dean, her redemption moment came to a bitter end after betraying the brothers, costing her whatever protection they could have provided once her devilish bargain expired and allowing her soul to be taken by Hellhounds.
Finn Wolfhard (Jordie Pinksy)
While still a teenager, Finn Wolfhard has earned the title of his generation's most prolific "scream king," from playing Richie Tozier in both It films, starring in the upcoming Ghostbusters: Afterlife, and, of course, his breakout role on Stranger Things. Yet, the Canadian actor's first association with the horror genre began a year before he was cast on the hit Netflix series as a guest star on Supernatural. In the 2015 episode "Thin Lizzie," Wolfhard plays Jordie Pinsky, whose father was the victim of a murder which took place at the childhood home of alleged murderer Lizzie Borden, now re-opened as a bed and breakfast, and Sam and Dean are convinced that primordial being The Darkness, which they just call "Amara" (Yasmeene Ball), may be involved.
Leslie Odom Jr. (Guy)
In one of his first TV gigs, Leslie Odom Jr. starred in a wedding episode of Gilmore Girls, which was Jared Padalecki's first major TV gig. Coincidentally, the future Hamilton actor's sole appearance alongside Padalecki on Supernatural is the Season 7 episode literally titled "Season Seven, Time for a Wedding!" The nuptials in question are between Sam and his obsessed fan Becky Rosen (Emily Perkins), which Dean correctly assumes is the work of some sort of black magic and eventually discovers Becky sold her soul to a crossroads demon named Guy (Odom Jr.) in exchange for Sam's love.
Dylan Minnette (Danny Carter)
As a protagonist in 2016 thriller Don't Breathe and the Netflix original horror flick The Open House, Dylan Minnette tends to play a lot of characters who enter places that they should be staying away from. In fact, this reputation dates back even years before he landed a lead role on hit drama 13 Reasons Why when the then 13-year-old starred in a Season 4 episode of Supernatural. In the episode, called "Family Remains," Minnette plays a young member of the Carter Family, who have just moved into a house in Nebraska, only to come across Sam and Dean, who have reason to believe their new home is haunted.
Ashley Benson (Tracy Davis)
After breaking out as Hanna Marin, a meek protagonist of Pretty Little Liars, in 2010, Ashley Benson's next big role would be the not-so-meek Brit in Harmony Korine's controversial thriller Spring Breakers. Yet, before either of those projects came her way, the model/actress also played quite a "hellraiser" (more literally speaking) in the Season 4 Halloween episode of Supernatural, in which she starred as Tracy Davis, a 600-year-old witch performing human sacrifice to resurrect the evil demon Samhaim (actually pronounced correctly in the episode). However, Sam and Dean do not figure that out until after they initially try to protect her from evil art teacher Don Harding (Don McManus), who actually turned out to be her brother.
Gary Cole (Brad Redding)
What helps Gary Cole stand out among the rest of the of the actors on this list is that, by the time he landed his guest spot on Supernatural, he had pretty much already established himself as a prominent onscreen presence, especially as Bill Lumbergh, cinema's quintessential boss from hell, in the classic 1999 comedy Office Space. Of course, the fact that his Season 2 appearance has certain thematic parallels to that iconic role only makes it more worth mentioning. In "Hollywood Babylon," Sam and Dean pose as production assistants to infiltrate a supposedly a haunted movie set, but Brad Redding, a bullish producer played by Cole, turns out to be one of more antagonistic characters they encounter, until he falls prey to the real on-set evil.
Katie Cassidy (Ruby/Lilith)
Although she is best known today for playing Laurel Lance (a.k.a. Black Canary) on Arrow, Katie Cassidy does have a place in horror movie royalty (so to speak) for her roles in the modern day remakes of When a Stranger Calls and A Nightmare on Elm Street. Her proudest moment within the genre would more likely be her recurring role on Supernatural, for which she actually got to play characters. Starting off as the first known human vessel of Ruby, a demon who becomes a frequent ally to the Winchester Brothers and love interest of Sam, Cassidy's character's body would eventually be taken over by a white-eyed demon named Lilith, who is most definitely not an ally to the Sam and Dean, but used her new appearance to insidiously achieve their trust.
Aldis Hodge (Jake Talley)
In Leigh Whannel's 2020 update of The Invisible Man, Aldis Hodge plays James Lanier, a police officer who falls prey to the manipulation of his friend's evil ex-husband. In the two-part Season 2 finale of Supernatural, he played Jake Talley, a US military officer who possesses the ability to manipulate others with mind control as a "Special Child," but that did not stop him from falling prey to the wishes of the Yellow-Eyed Demon, Azazel, and become one hell of an obstacle for Sam and Dean. Jake eventually becomes entirely consumed by his demonic side, becoming instrumental in the unleashing of the Apocalypse.
Felicia Day (Charlie Bradbury)
Felicia Day has earned a bit of a "geek goddess" reputation among her cult followers for years, from starring on Buffy the Vampire Slayer, Eureka, her recent regular role on Netflix's Mystery Science Theater 3000 revival, and plenty more beloved projects. Among those programs, undoubtedly, is Supernatural, on which she starred as skilled computer hacker, and LARP enthusiast, Charlie Bradbury, whom Sam and Dean treat as the "sister [they] never wanted." Her Season 7 debut would only be Day's first appearance on the series and would later appear as Charlie's evil side as well as an alternate version of the previously murdered character originating from an apocalyptic dimension from which Dean transports her to the main Earth.
Jared Keeso (Matt Harrison)
It is impossible to imagine Jared Keeso as anyone other than Wayne, central character of the hilariously surreal comedy series Letterkenny, which he also created. Believe it or not, however, the Canadian actor had a career before the Hulu exclusive series, which includes a brief guest spot on the second season of Supernatural in which he plays Matt Harrison, the unfaithful boyfriend of Angela Mason (Amara Zaragoza), and her first victim after she resurrects from the dead as a vengeful zombie. He is actually just one Letterkenny actor to have had a guest spot on Supernatural, given a lot of it is filmed in Canada, including Nathan Dales, Kaniehtiio Horn, and Tyler Johnston.
Cory Monteith (Gary)
Another actor who made one of his first TV appearances in the second episode of Supernatural (like the previously mentioned Alden Ehrenreich) was Cory Monteith, who played a camper named Gary who becomes a victim of the Colorado Wendigo. Years later, the Canadian actor would achieve great success as a high school athlete balancing sports with a love for performing arts on the hit musical series Glee. Unfortunately, his role was tragically cut short when he passed away at 31 due to a combined overdose of alcohol and heroin.
For more information and updates on Supernatural, as well as more A-listers who made early appearances on your favorite shows, here on CinemaBlend.
Jason has been writing since he was able to pick up a washable marker, with which he wrote his debut illustrated children's story, later transitioning to a short-lived comic book series and (very) amateur filmmaking before finally settling on pursuing a career in writing about movies in lieu of making them. Look for his name in just about any article related to Batman.
Your Daily Blend of Entertainment News
Thank you for signing up to CinemaBlend. You will receive a verification email shortly.
There was a problem. Please refresh the page and try again.