Felicia Day Will Guest Star On Supernatural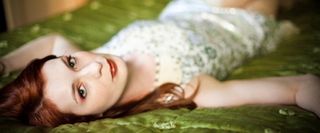 Prepare for nerd overload, because Supernatural is about to combine two great tastes that taste great together. Creator of The Guild and all-around geek icon Felicia Day is set to pay a visit to the brothers Winchester in an upcoming episode of The CW's popular series. She'll be stretching her acting talents to the absolute brink by playing...a girl who's good with computers. Phew, good thing they aren't also requiring her to be adorable, because then she'd likely collapse from exhaustion.
The news comes from TV Guide, who learned from Supernatural showrunner Sera Gamble that Day will be appearing in the April 27th episode, which sports the completely awesome title of "The Girl with the Dungeons and Dragons Tattoo." That, of course, is a reference to the Millennium trilogy of novels written by author Steig Larsson, which began with 2005's posthumously published The Girl With the Dragon Tattoo. Day's character is said to be a talented hacker, much like the novels' tattooed and pierced protagonist, Lisbeth Salander.
Gamble describes Day's role as "a girl named Charlie who is sort of a lowly tech working in one of Dick Roman's companies." Dick Roman, for those who have forgotten, is the leader of the powerful Leviathans, creatures who can assume human form and who Sam and Dean have spent all season trying to defeat. Gamble continued: "[Charlie is] an amateur computer hacker and unwittingly gets wrapped up in Sam and Dean's problems. It's a classic story of an everyday girl who does not want to be in a whistleblower position."
While we'll have to wait until the end of April to see Day's appearance, new episodes of Supernatural return to the CW tonight, March 16th, at 9/8c.
Your Daily Blend of Entertainment News
Your Daily Blend of Entertainment News
Thank you for signing up to CinemaBlend. You will receive a verification email shortly.
There was a problem. Please refresh the page and try again.