TNT's Snowpiercer: 10 Big Questions We Have After Episode 5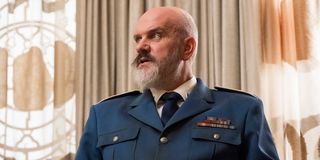 Warning! The following contains spoilers for the Snowpiercer Season 1 episode "Justice Never Boarded." Read at your own risk!
Snowpiercer's murder trial is done, although justice wasn't served, and unrest continues to build inside the train. The TNT drama upped the ante once again with another whirlwind episode that featured a lot of moving pieces in those final minutes that some viewers may have overlooked.
Actress Annalise Basso hinted to CinemaBlend last week that LJ wouldn't not locked up for long, and is now a free person thanks to "Mr. Wilford's" late-game intervention. That decision sent ripples through the train, and the trial seemingly distracted everyone enough that major changes could be introduced once everyone gets back to work and realizes everything that has happened. Here are all the big questions on my mind following "Justice Never Boarded."
What Happened to Osweiller?
Bess was forced to make a bad decision by the episode's end, and she clubbed her corrupt partner Osweiller in the back of the head in order to help Josie save Layton from his stasis. Osweiller was gone when Bess returned, though some of his blood was still on the wall. So did Osweiller get up on his own? I'm thinking someone collected and hid him, perhaps someone hoping to either blackmail Bess or protect her from any repercussions that her betrayal may bring about.
How Long Can Layton Stay Hidden?
I mentioned last week how difficult it would be to save Layton from his perilous situation, especially given Melanie's interest in stopping him from revealing her secret. It won't be long before it's discovered he again went missing, and Melanie will turn that train upside-down looking for the homicide detective who, according to Bess, was already supposed to be back in the tail. Layton may not have long to stay hidden, which isn't ideal considering it looks like his forced slumber really did a number on him.
Which Class Will Start The Revolt?
With the small First Class group discussing a coup in this Snowpiercer episode, I'm beginning to wonder if every class of the train is experiencing their own levels of unrest. The Tailees are looking to make a move but are still more or less powerless, and the third class seems well-organized and building towards something, but who knows what second class is up to. Perhaps they'll be the ones to incite everything, but I'm only saying that because it seems like that train section is the main one not getting much attention in the story so far.
Does LJ Know Melanie's Secret?
The Folgers were ready to keep LJ away from punishment by any means necessary, but it was the psychopath herself that seemed to save herself in the eleventh hour. It was clear Melanie thought LJ may have known she was actually Mr. Wilford, but did LJ actually know that? I'm suspicious, if only because I'd have to think LJ would've already tried to leverage Melanie before now, similar to what she attempted with Layton. If she does know, I can't help but think things will only get worse for Melanie going forward.
How Many Other Weirdos Live In First Class?
Was I the only one who couldn't stop shuddering during all the scenes between LJ and her father? That scene with the eye was somehow more uncomfortable than all the love scenes between Game of Thrones' Cersei and Jaime Lannister combined. If those are the type of people hanging out in first class, I can't imagine what other depravity could be happening up there with the others. Seriously, did she have to SNIFF her dad's glass eye before popping it in her mouth?
Does Melanie Have An Informant In The Tail?
With Snowpiercer's latest reveal that Melanie has an informant in first class, I now suspect that she has somebody in the tail as well. If she did, I'd think it would have to be one of the workers in sanitation, seeing as they're the only ones that viewers have seen who exit the tail and return frequently. It wouldn't make much sense for anyone else, nor would it make sense for Melanie to journey back there herself unnoticed.
So Everything Layton Told Others About The Tail Was True?
When Layton started talking about the tail to other people on the train in past episodes, I assumed his anecdotes were basically glorified scare tactics. After his dream sequence, however, it does seem like he was being honest with his stories about the cannibals and how they murdered the leader and ate his heart. I guess if nothing else, I now know to believe just about everything Layton says. (Unless he's just always had weird cannnibal dreams, and those are what influenced his tall tales.)
Does Anyone At The Head Of These Potential Revolts Seem Better?
With a few potential revolts now brewing on Snowpiercer, I can't imagine any other group leaders being a better commander than Melanie. The tail has been lost since its failed attempt, the first class is consulting that scarred security head who just screams major villain, and the Thirdies have the increasingly shifty Terrence. None of these people seem capable of running the Snowpiercer, so I don't know how any of these revolts will succeed even if they do overthrow the train's powers-that-be.
Will Josie Make It Back To The Tail Unnoticed?
Josie switched places with her Thirdie friend earlier in the episode, and has been traveling the train ever since. It looked like she was heading back after dropping Layton with Zarah, though she was witnessed by a guard as she left the tail, which has me wondering if she'll even be able to make it back. If anyone discovers that Josie left, she'll lose an arm for sure, so I have to think she won't risk going back to her spot on the train for a while if there's even the slightest hint of danger.
What Are The Aftereffects Of Layton's Time In Stasis?
Layton seemed to be feeling better than before by the very end of Snowpiercer, but I highly doubt that means he's 100%. At the very least, I could see him developing a Kronole habit as some sort of drug dependence, though I don't know who would want to willingly experience those nightmares he seemed to be having. Does that kind of thing happen with everyone, and if so, what's it going to be like when the Tailees are brought back after being put under? Assuming it happens of course, since there are no guarantees.
What kinds of questions do you have about the show? Let us know in the comments, and don't for get that Snowpiercer airs on TNT Sundays at 9:00 p.m. ET. Continue to stick with CinemaBlend for more on the series, and for the latest news happening in television and movies.
Mick likes good television, but also reality television. He grew up on Star Wars, DC, Marvel, and pro wrestling and loves to discuss and dissect most of it. He's been writing online for over a decade and never dreamed he'd be in the position he is today.
Your Daily Blend of Entertainment News
Thank you for signing up to CinemaBlend. You will receive a verification email shortly.
There was a problem. Please refresh the page and try again.