Why Bachelorette Kaitlyn Bristowe Didn't Want A Proposal From Jason Tartick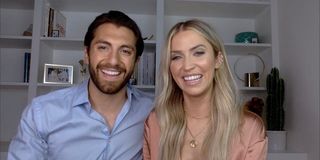 The Bachelor: The Greatest Seasons - Ever! (nicknamed The Bachelor: GOAT) has been offering up quite a few surprises recently for franchise fans. One of the latest episode's biggest shockers was perhaps that Jason Tartick did not actually propose to The Bachelorette alum Kaitlyn Bristowe during the show. As it turns out, Bristowe had a pretty good reason for why she didn't want a proposal from Tartick at all.
In the June 15 episode of The Bachelor: GOAT, Jason Tartick was reportedly offered the opportunity to propose to Kaitlyn Bristowe, but he opted not to. Tartick, who had appeared on The Bachelorette in 2018, thought that it wasn't a good idea to go through with something so personal on a show that revisited other Bachelor couples. Also, he didn't want it to be shown on TV. Bristowe completely agreed with Tartick's assessment of the situation. Here's what she told ET:
Kaitlyn Bristowe knows all too well what it feels like to be proposed to on national television, so it makes sense that she'd rather have a more intimate proposal with just her and Jason Tartick. That said, she did look a little worried when The Bachelor: GOAT's Chris Harrison told her about a surprise coming to that show. Luckily for Bristowe, that surprise was not an engagement ring. Whew!
The former Bachelorette was much more excited about the news that she would compete in another ABC competition show: Dancing with the Stars. When Chris Harrison confirmed the news, Kaitlyn Bristowe was completely caught off guard, shaking and visibly "freaking out." The news was quite unexpected. I mean, a Dancing with the Stars announcement happening on The Bachelor: GOAT? Who would've thought?
That said, Kaitlyn Bristowe's reaction was pretty adorable, and beau Jason Tartick was also thrilled for her. Who needs an engagement ring when you can have dancing shoes and do the foxtrot, am I right? Bristowe wouldn't be the first Bachelorette to take to the Dancing with the Stars stage, with Hannah Brown winning it all last season, so she'll be in good company.
New episodes of The Bachelor: The Greatest Seasons - Ever! air Monday nights at 8:00 p.m. ET on ABC. Dancing with the Stars Season 29 doesn't yet have a scheduled premiere date, but stay tuned to CinemaBlend for updates.
For more on what to watch in the coming months, be sure to check out our 2020 summer TV premiere guide.
Your Daily Blend of Entertainment News
Thank you for signing up to CinemaBlend. You will receive a verification email shortly.
There was a problem. Please refresh the page and try again.