Yellowstone: 3 Possible Reasons Beth Hates Jamie Going Into Season 3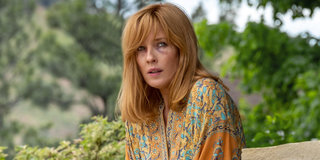 (Image credit: Paramount Network)
Yellowstone fans have been embedded in a big Dutton family mystery for two seasons, and with Season 3 on the horizon, answers may soon arrive. Why, oh why, does Beth hate Jamie so much? Stars Kelly Reilly and Wes Bentley have both teased that the answer will finally be revealed in Season 3, but so far, the reason why Beth is so disgusted by her brother has been left solely to speculation.
Last season brought a few clues to the surface here and there, with Yellowstone's stars supplying some clarity to the one-sided feud. (And also saying that secrets will also be coming to light in Season 3.) For his part, Jamie has always seemed to hate Beth a whole lot less than she hates him, and that's just one of the many complex layers making up this Yellowstone mystery. The series' co-creator, Taylor Sheridan, teased that Season 3 would dig a lot deeper into Beth and Jamie's relationship. Hinting at what lies ahead, Sheridan indicated that viewers' expectations for certain characters are going to take a 360 during the new episodes.
Adding to the intrigue, Jamie seems utterly ignorant of why Beth spews such hate towards him, and he neither questions it nor asks her to stop and explain. Further complicating things, the two have also shared some close moments in between the caustic ones on Yellowstone, with Beth helping pave the way for Jamie's return to the Duttons' vortex. In another stunning detail, the love of Beth's life, Rip, is also apparently in the dark as to how dire the siblings' relationship is. Keeping all of this pre-released Yellowstone info in mind, these are the possible reasons that I have come up with for why Beth hates Jamie.
Jamie Left Beth With Someone Who Hurt Her
The Theory
Jamie could have had a friend or an acquaintance that he left to watch over Beth alone when they were younger, and that friend could have hurt, attacked and/or violated her. Jamie might have even walked in on it, perhaps under the influence, and just left her there. (With the hypothetical drunkenness allowing for his lack of memory over what happened.) Alternately, he could have reacted out of cowardice and avoided the situation in the same way. Whatever his motives were, Beth could easily blame Jamie for leaving her to suffer a potentially awful fate pre-Yellowstone.
The Clues
Beth always talks about Jamie being selfish, and while viewers have seen Jamie act in his own self-interest from time to time, Beth seems to be referring to something far more substantial. In accusing Jamie of such behavior to her father, Beth appeared to be alluding to an event that stretched back way further than any events that viewers have seen. (Until we get some kind of a flashback, anyway.) If Jamie selfishly left Beth in the hands of a predator, Beth's anger would be understood and justified.
Jamie Cost Beth Something Important
The Theory
It is possible that when in their later teenage years, Beth was involved in a car accident that was caused by Jamie. Whatever the reasoning (tiredness, DUI, etc.), Jamie's driving could have led to it, and my Yellowstone theory then speculates that after the wreck, Jamie (and John) might have thought that Beth was heading for a full recovery. However, Beth could have been told in confidence by someone on the medical staff that she suffered internal injuries and could no longer have children, which she could have theoretically kept a secret.
The Clues
In Yellowstone Season 2, Beth got especially acidic with Jamie after witnessing Rip bond with Tate, her and Jamie's nephew. After finding Jamie, Beth quickly began saying quite vile things to her brother, seemingly triggered by seeing Rip and Tate getting along so well. Is having a biological child with Rip something that would be impossible for her, hence her anger at Jamie?
Beth Learned An Explosive Secret About Jamie
The Theory
Viewers are going to learn a big secret about Jamie in Season 3 that Beth already knew about, and it's one that disgusts her. Perhaps Jamie is guilty of betraying their father (or the family as a whole) before the events of Yellowstone began, but for whatever reason, she has kept quiet about it for however long. The guilt-by-association could explain her rage towards him him, though not why she would have helped cover for him. If this is the clandestine reason behind the sibling rivalry, it would clarify what kind of secrets the Yellowstone cast was teasing.
The Clues
In previous episodes of Yellowstone, Jamie seemingly hasn't been aware of why Beth hates him. If Beth knows some major secret that he thinks hasn't spread to anyone else, it could explain why he is so clueless about her outrage. Whatever this secret might be, though, Beth believes that Jamie does not deserve love, which indicates this potential secret is pretty explosive, sinister, and based on previous hints of pure selfishness. Perhaps, it was some accident involving a child, which brings us back around to the Tate issue.
The second explanation explains how Jamie did something to Beth without him being aware of it. Plus, it gives Beth a considerable reason to be angry at Jamie, who she seems to blame for robbing her of something. Being secretly unable to have kids because of Jamie would match up with that.
I do not think that Beth's reason for hating Jamie has anything to do with him not being John's biological son. At one point, I had considered it, and it is a popular theory among some Yellowstone fans. The thing between Jamie and Beth seems entirely personal, and Beth should be mature enough not to blame Jamie for his paternity. A fact he has no control over.
Yellowstone has all of Season 3 to explain to viewers why Beth hates Jamie. Plus, all of Season 4 to work through every bit of the potential aftermath. Kevin Costner did tease the "big drama" and "consequences" to come. Beth is John Dutton's favorite daughter (okay, his only daughter), and if Jamie purposefully hurt her and has been lying about it, Jamie is in for an awakening.
Find out what happens between Beth and Jamie when Yellowstone's third season premieres on Sunday, June 21 (Father's Day), on Paramount Network. The new season is one of this summer's premieres. If you want to catch up on Beth and Jamie's drama so far, stream Yellowstone when it becomes available on NBCUniversal's upcoming service, Peacock. It launches nationally on July 15.
Your Daily Blend of Entertainment News
Like a contented Hallmark movie character, Britt happily lives in the same city she grew up in. Along with movies and television, she is passionate about competitive figure skating. She has been writing about entertainment for 5 years, and as you may suspect, still finds it as entertaining to do as when she began.